4 Ways To Talk To Your Loved One About Getting An At-Home Mobility Aid
As our parents and family members get older, they lose mobility – some more than others.
Becoming less mobile can lead to a loss of self-confidence, and feelings of sadness. But it's a sensitive subject, and merely mentioning the topic can start a heated disagreement.
Well-designed mobility aids can help older people enjoy a better quality of life and move around their home independently despite mobility problems.
At the same time the mobility aid gives you peace of mind, because you know they are safer and more comfortable.
Whether it's a parent, grandparent, spouse, or elder sibling, there is a right and wrong way to suggest using a mobility aid without feeling like a burden.
As one of Canada's leading manufacturers of assisted mobility and fall prevention products, we've experienced this challenge with customers and even with our own parents.
So we've rounded up four tips that can help you discuss this topic with your elder loved ones.
The simple tips won't offend or belittle, but can empower older people to accept and feel good about the help of a mobility aid.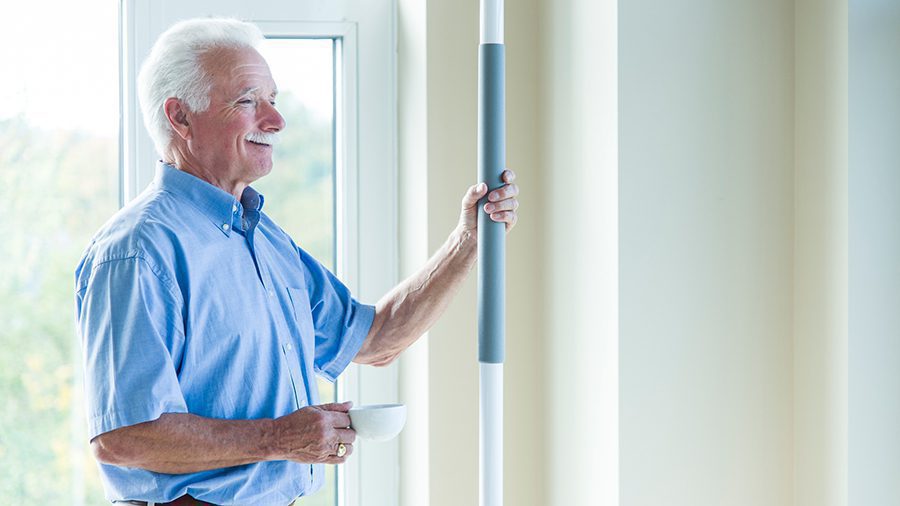 The freedom to move around the house anytime, without fear of falling or getting stuck is a key reason why so many people choose a mobility aid.
If your loved one struggles with getting out of bed or has trouble getting up from the couch, you can suggest that a mobility aid would make their transition easier and more comfortable.
They may have concerns that mobility aids will make their home 'look like a hospital' – but that's just not so.
There are so many more options for mobility support and fall prevention products now… Including stylish modern designs that blend into the decor of the home.
Talking about mobility problems with older people can cause tension.
It can be tempting for adult children to talk about unwanted alternatives like assisted living facilities as a possibility… But it will not help the situation.
Try to stay patient, talk gently, and give your older loved one some time to think about their options before they accept the idea.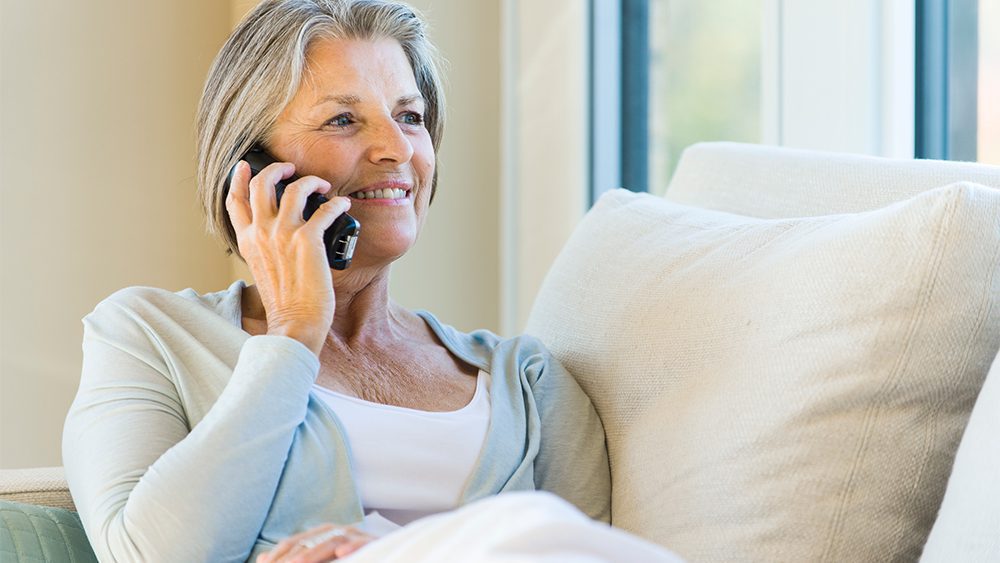 Does your older loved one have friends who already use mobility aids or fall prevention products?
It can be very helpful to have the friend reach out, advise how they benefited, and how their movement around the home is easier and more comfortable now.
Sometimes older people just want to hear the opinion of someone who understands things from their perspective.
The right messenger matters just as much as the message, and sometimes a little 'peer pressure' can be good in this situation.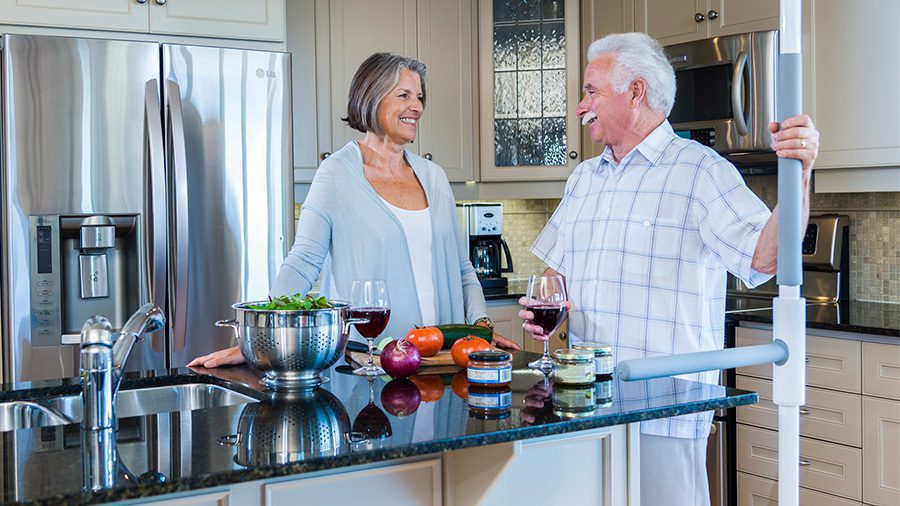 3. Give Your Elder Loved One The Power To Choose
When you've both come to an agreement about getting a mobility aid, it's important that your elder loved one makes the final decisions about what to get.
It helps them to feel in control of their life, their health, and their home.
You can aid this process by sharing information and resources to help make the decision easier.
Sit at the computer together and do some online 'window shopping'… Or order some printed information brochures and read through them together over coffee.
4. Get Professional Advice And Choose Products From Trusted Brands
At Healthcraft Products, we have designed and created many functional and aesthetic products to prevent falls and aid mobility around the home.
Our most popular and most recommended product is the SuperPole with SuperBar.
SuperPole with SuperBar is a complete support solution for the bedroom, washroom, living room and other key areas of the home. If it's a space where your older loved one likes to spend a lot of time, or needs to move from standing to sitting and back… Then SuperPole with SuperBar can help.
"Great! Really helps my Dad feel safe and independent."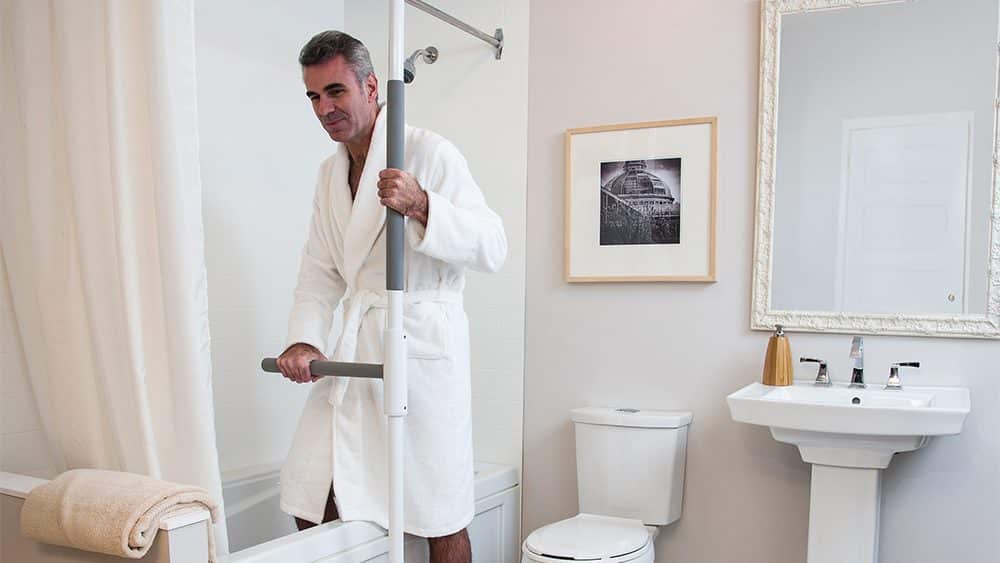 What is it about the SuperPole with SuperBar that makes it preferred by older adults, with over 150,000 units in service?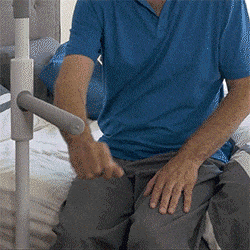 HealthCraft's popular SuperPole with SuperBar has helped hundreds of thousands of families reduce the risk of a loved one falling, and gives daily support with moving around the home safely.
SuperPole with SuperBar is a floor-to-ceiling pole with a 360-degree pivoting grab bar that provides stability and safety when transitioning between standing and sitting, stepping over bathtubs or getting out of bed.
SuperPole with SuperBar is made of alloy steel, making it strong enough to support people of all sizes up to 450lbs.
SuperPole with SuperBar comes with an innovative pivot and lock system, with 8 automatic locking positions placed every 45 degrees around the pole.
What this means is, if you're using the SuperPole with SuperBar pivot and you stop moving, it automatically drops into a locked position for safety.
The grips on the SuperPole with SuperBar are made from PVC foam which is soft, smooth, and comfortable on the hands and wrist, but still offers a sturdy grip to prevent slipping.
"Purchased to transfer to and from my wheelchair to my bed. Much better than other similar products."
Installing SuperPole with SuperBar is Easy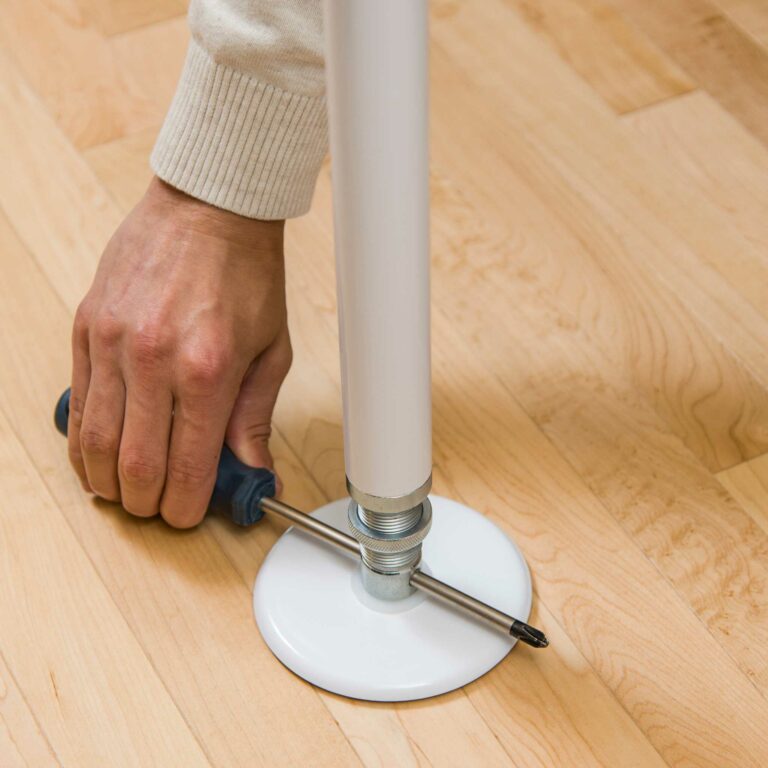 With a clear and precise installation guide, anyone can install SuperPole with SuperBar within 15-20 mins.
A jack-screw locking design with top-and-bottom friction pads allows SuperPole with SuperBar to be installed anywhere in the home between the floor and ceiling by simply twisting the pole to create a tight 'expansion fit'.
No power tools or screws are needed for most installations.
Once tightened in place and secured with the locking screw-collar, SuperPole with SuperBar will not slip or move.
"Was easy to install. Sturdy construction and works well!"
SuperPole with SuperBar is Antibacterial
Even if you regularly clean your home, bacteria will breed on many surfaces, and can be a health risk for older people, or people with immune challenges.
For people with spinal cord injuries or immunodeficiency causing diseases, surface-borne viruses and bacteria become a severe risk factor.
SuperPole with SuperBar has an antibacterial powder-coated finish that doesn't allow bacteria to stick or grow.
This makes the SuperPole with SuperBar perfect for everyday use without any need for extra cleaning beyond your normal household routine, and no need to worry about your elder loved one being at risk of bacterial infection from its gripping surfaces.
"The pole works great and my wife loves it. We use it bedside to support my wife getting to the bathroom."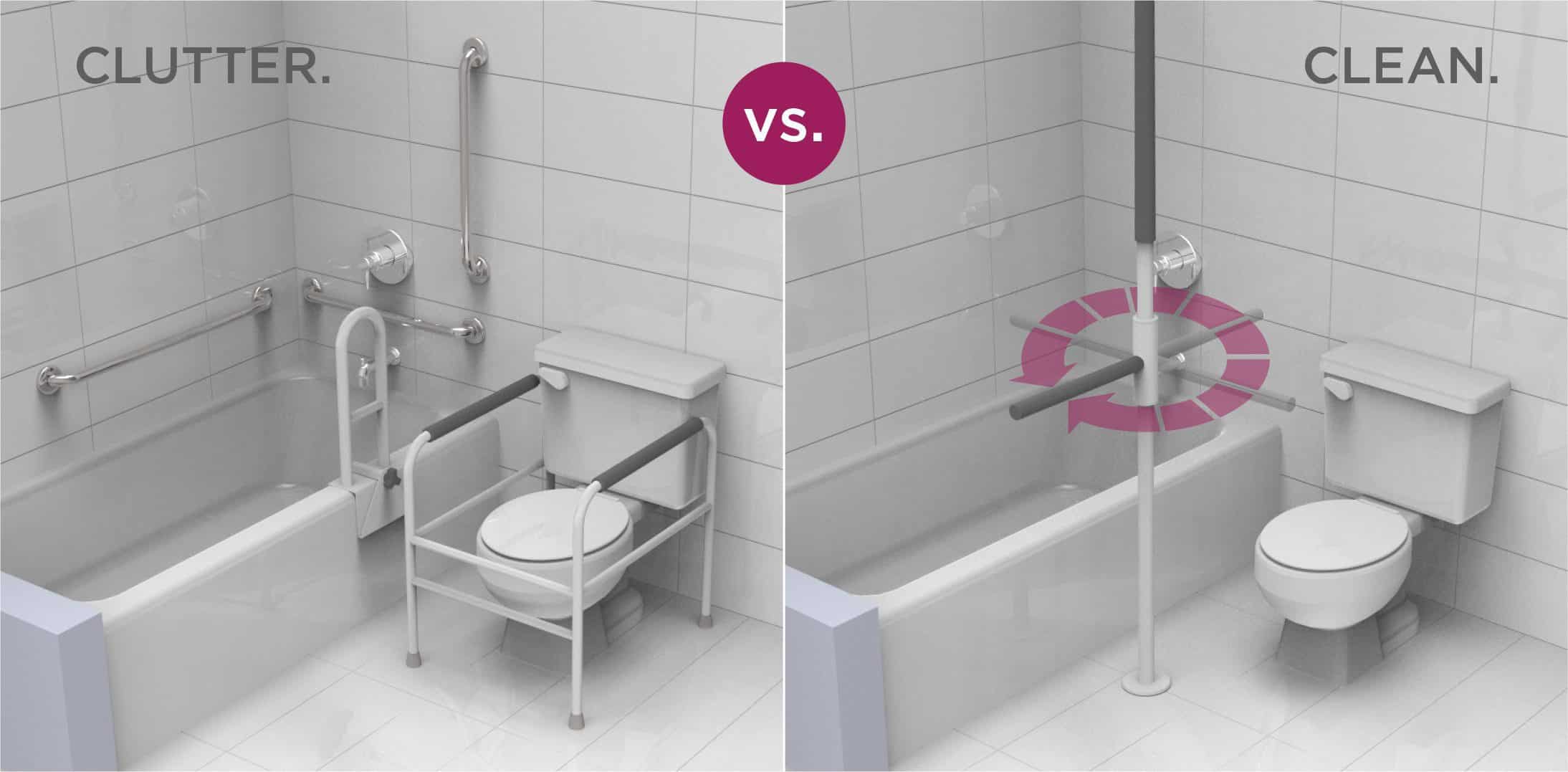 SuperPole with SuperBar looks smart, neat and presentable
Let's face it – nobody wants their home to look like a hospital.
Older people are just as proud as anyone, and it can be hard for them to admit they are not as strong and mobile as they used to be. They don't necessarily want to be reminded of this hard-to-swallow truth.
SuperPole with SuperBar's modern, sleek design and smooth, bright powder coat finish looks neat, smart and unobtrusive in any home.
Your elder loved one will soon come to love their SuperPole with SuperBar for the benefits it brings, and not even notice it anymore – just like
Buyers love SuperPole with SuperBar…
Users of the SuperPole with SuperBar are reassured by its safety benefits and impressed with how it improves their elder loved one's mobility around the home.
Since our first original product designs over 25 years ago, HealthCraft Products have helped hundreds of thousands of people prevent falls and improve their quality of life through increased mobility and safety in the home
Take a look at what buyers have been saying about their SuperPole with SuperBar:
It's easy to see why buyers love SuperPole with SuperBar
"I use one of these beside my bed, commode, and easy chair. Allows me to transfer to and from my wheelchair without assistance. No more hours spent waiting for assistance since I installed these."
"Got this for my husband – it is extremely well made and very cleverly designed. He wonders how he ever got along without one for the support it provides. Installed easily and safely. Highly recommend."
"Excellent and extremely useful. I made a big difference in my life. It makes standing easier and improves my balance."
"I am a harsh critic when it comes to consumer products, and often find them lacking. This is not the case with the SuperPole. My mother loves it and uses it daily. It has kept my mother independent and has given me peace of mind. Highly Recommended."

V. Wilson
Where can I buy SuperPole with SuperBar?
SuperPole with SuperBar is sold on the HealthCraft Products website here and at selected brick-and-mortar retailers. However, we offer a special discount of 10% exclusively to website buyers.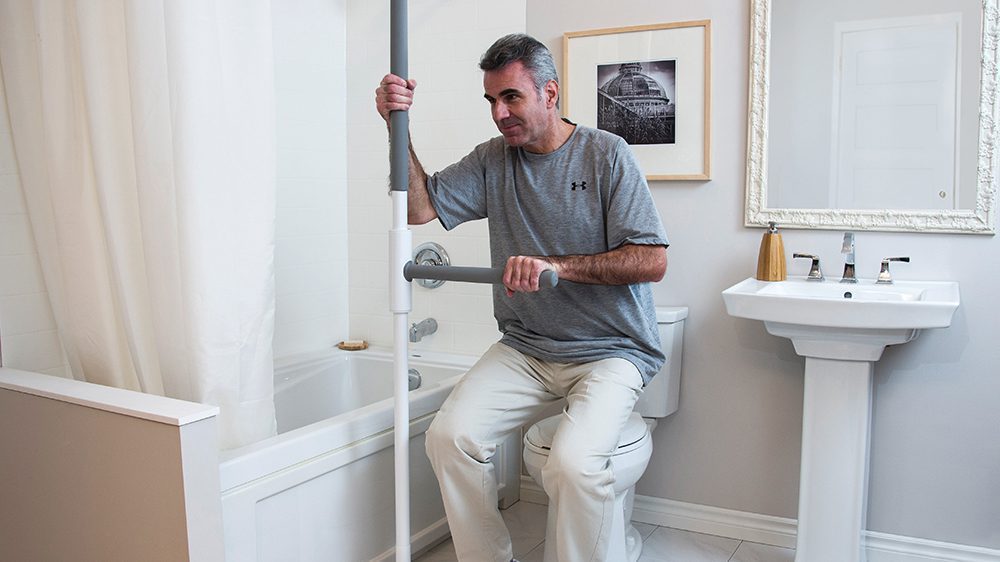 As a special introductory online offer, first time website buyers of SuperPole with SuperBar get these extra bonuses:
10% discount on purchase price of SuperPole with SuperBar
Free shipping of your SuperPole with SuperBar
Lifetime warranty for your SuperPole with SuperBar
Plus! No-Risk, 100% Money Back Guarantee
At HealthCraft Products, we're so confident that SuperPole with SuperBar will help your loved one move around the home with increased confidence and safety that we offer a 100% money-back guarantee.
Purchase a SuperPole with SuperBar and try it for 45 days.
If you don't love SuperPole with SuperBar and want to keep it forever, simply message our Customer Service team, and we'll refund every penny of your purchase.
So if you're ready to help your loved one with a full support aid solution for the home, try SuperPole with SuperBar today. With your 45 days money-back guarantee, it's 100% risk-free.