Housing for All: The Value of Barrier Free Living
What is barrier free living?
Barrier free living is residential space designed to be functional for everyone, regardless of age, size, or level of ability. By eliminating common barriers found in typical home designs, barrier free homes are accessible, adaptable, and inclusive to more people.
Barrier free living? But, why?
Consider your home and the homes you've visited. Is it easy to walk through the front door? Use the bathroom? Cook a meal with your friends? 
You may not have thought about these things before. In fact, many of us take our access to functional, usable spaces for granted. However, for some people—whether they've lost mobility with age, they use some kind of assistive device like a wheelchair, or they have another disability—these questions can bring up some serious issues. 
Barrier-free homes are built to work for a wide variety of people of diverse ages, genders, and disability statuses.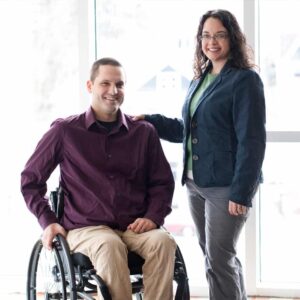 Photo of Sarah and Scott Pruett, co-founders of The Universal Design Project
In the following interview, Sarah and Scott Pruett (co-founders of The Universal Design Project) discuss the importance of homes that are widely accessible, barrier free, and how Universal Design can be used to meet that end and create more inclusive communities.
A recap on Universal Design
In order to truly understand Sarah and Scott's organization and vision, it's important that you understand Universal Design. 
Universal Design is a type of design that focuses on creating products and spaces that work best for the widest variety of people. This type of design focuses on features like flexibility, ease of use, simplicity, and error tolerance. At its best, Universal Design yields products and spaces that simply work well for everyone, with limited exclusion.
By applying this concept to residential spaces, we can design homes that work well for a broad spectrum of people with varying needs. This could include multigenerational families living under one roof, individuals who use wheelchairs and mobility devices, adults seeking homes where they can safely age in place, and more.
The question is—how can we build homes that are accessible and barrier free for all of these different people? The Universal Design Project is working on answers.
What is The Universal Design Project?
In an effort to address the United States' stark need for affordable, universally accessible housing, Sarah and Scott Pruett founded The Universal Design Project in 2016. It's a nonprofit organization with a vision for all communities in the United States to have a surplus of financially and universally accessible homes.
 They collaborate with design professionals, healthcare workers, and people with disabilities to create residential spaces that work well for everyone.
Q&A with Sarah and Scott Pruett
In this section, Rebecca's question will be denoted with RL, Sarah's answers with SARAH, and Scott's with SCOTT.
RL: How did you start The Universal Design Project and why?
SCOTT: We started The Universal Design Project in 2016. The reason for starting this line of work was to really address the issue of the lack of accessible housing throughout the United States. It's something that Sarah and I have experienced personally, as we've moved around, or gone to visit family and friends.
SARAH: We actually started a smaller consulting business called Universal Design Partners first. 
The goal was to go into people's homes and evaluate how they were able to use their spaces with my background in occupational therapy and determine what needed to be changed to make it safer or more functional for them. And then, I would connect with a builder or architect to make some of those changes.
What we realized is that we were doing more home modification work, but what we really wanted to do was Universal Design. With home modification, we were able to change things here and there to make it safer, but we really weren't able to address the whole home because it was really expensive.
Making a "barrier full" house barrier free can be expensive compared to building inclusive design from scratch.
SARAH: We kind of struggled with the fact that we were just putting little band-aids on things. We really wanted people's entire homes to be universally designed and to be usable. We changed to a nonprofit because we saw that there needed to be more collaboration.
And I think we also wanted to be a part of the team. We didn't want to be just that consultant that gave recommendations. We saw value in being a part of the whole project to make the final product something that was desirable and actually usable by the people we were designing it for. 
RL: What is universally accessible housing? 
SCOTT: The simplest way that we look at it is housing that is as functional as possible for as many people as possible. It's housing that really works for whatever people's situation is across their lifespan. 
A lot of what we focus on is the functionality of housing. That's where we start to explore the differences in how people perform tasks, and how different health conditions or impairments can affect somebody's functionality in a home.
If you want to read more about this, check out Scott's blog post on the topic. 
RL: What are some common features that you could point to in a universally designed home?
SARAH: When people think of Universal Design, they think about features like lever handles and rocker light switches, but there are a lot of other features that can help make a space usable for everyone.
As a baseline, all entrances and levels of the home need to be accessible without steps or stairs. Wide hallways and open floor plans are very common. They allow for easy maneuverability of wheelchairs or other assistive devices. 
The major thing is that these features allow people to do their daily tasks.
Having everything within reach, whether a person is seated or standing or short or tall. This also means that there's flexibility built into the design. So there could be countertops at different heights or drawers that pull out so people don't have to bend down and reach in.
Get more tips for barrier-free living.
SCOTT: Flexibility allows different people to use different features and areas of the home in ways that work well for them. It may not be initially obvious that a feature is universally designed. 
It's really about taking a lot of accessible features and integrating them well together. This way, if somebody has a specific need, they'll be able to use the space as it is or see that there is some variability built-in.
The other way to look at it is more holistically. Instead of just pointing out specific features—looking at the home as an entire product in itself.
SARAH: It's about making sure that the design fits all kinds of abilities without being too specialized for one type of impairment.
For people with visual impairments, it's important to include high-contrast colors and materials so it's easy to see where one surface begins and another ends. There's also the consideration of smart technology for managing lights, alerts, alarms, and different appliances. But those can increase the price. 
Affordability is a big thing in Universal Design. Generally speaking, a lot of these features can be implemented without too much more cost.
Renderings from The Universal Design Project by Brooke Thabit showing designs for a barrier free bathroom and bedroom.
RL: Who are the members of your team, and what are the different roles?
SCOTT: The way that we look at it—particularly on the design side of things—is that we've got three different categories of people. We have design professionals, health professionals, and our volunteer Design Advisors.
The health professionals are able to look at designs on a broad, functional level. Our Design Advisors evaluate the designs based on their direct, lived experience with some sort of impairment or disability, so they can tell us if it would work for them. If it doesn't, they provide suggestions to make it better.
SARAH: It creates a nice system of checks and balances to make sure that we're producing designs that would be usable for as many people as possible.
RL: And what is your vision for the future?
SCOTT: Our vision for the future is to have the resources to enable home builders throughout the country to easily build more universally accessible homes. Our organization focuses on doing the design work and then we disseminate it to home builders throughout the country. 
We want to be able to take those plans and get them in the hands of people who can actually make them a reality. We eventually hope to see more communities throughout the country that have a surplus of universally accessible homes.
RL: It's a lofty but worthwhile goal! What's the best way for people to get in touch with your organization or to get involved?
SARAH: The biggest thing that someone could participate in is our Design Advisor program to actively give feedback on plans that we're working on. You can learn more about that at https://universaldesign.org/volunteer.
SCOTT: We also have donors who support us and enable us to do more design work. 
Wondering how you can contribute to creating more inclusive communities and barrier free homes? Check out https://universaldesign.org/ and learn more about opportunities to collaborate.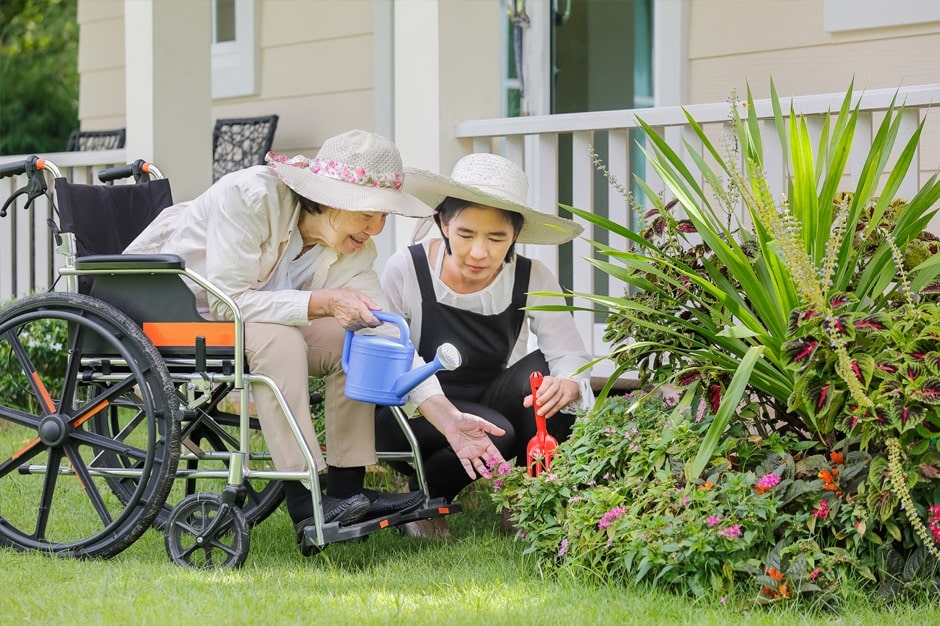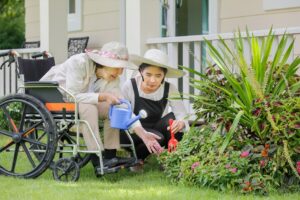 A barrier free future
Think again about the home you live in or those you've visited. Could those spaces be more accessible for a wider variety of people? 
What would a brand new neighborhood look like if designed with the universal vision that Sarah and Scott describe? And what would it mean for our communities to break down the barriers in residential spaces so that all people could have equitable opportunities for participation?  
In the words of Sarah Pruett, there is something really exciting about that notion. It's not an easy undertaking, as Scott keenly recognizes—but with this multidisciplinary approach, combined with fervent passion—it is possible! 
With Sarah and Scott helping to lead the charge, it seems like we're well on our way!