Sale
4.8/5
Rated 4.8 out of 5 based on 40 ratings
(40 reviews)
An award-winning floor-to-ceiling pole. Great help for sitting and standing. Quick & easy installation.
DETAILS
DESCRIPTION & FEATURES
A Sturdy, Secure Handle When You Need It.
The SuperPole is the ideal solution for those who need additional stability or support but don't want to give up their independence. This floor-to-ceiling pole provides secure, comfortable, and adjustable support anywhere you need it in the home. Its unique design also allows people to safely move from a bed, chair, wheelchair, or toilet without ever having to have a caregiver present.
The SuperPole is made from alloy steel that can withstand the rigors of daily use while remaining lightweight and stable. Floor to ceiling poles can easily be adapted according to individual needs, with installation taking only 15 minutes it can be placed in tight spaces or contoured against any wall when needed – creating an accessible space in any setting. The award winning design increases safety, convenience, and offers a wide range of adjustability options for anyone looking to maintain their independence with utmost safety and comfort.
Benefits:
– Installs in 15 minutes
– Versatile for any transfer in your home
– Limited Lifetime Warranty
– Made in Canada
Product Features
Easy Installation
If you have a floor and a ceiling, we have support for you. Simply turn the jackscrew at the bottom of the pole to create enough pressure between the floor and ceiling for solid support. The length of these poles provide extra security compared to conventional wall-mounted grab bars.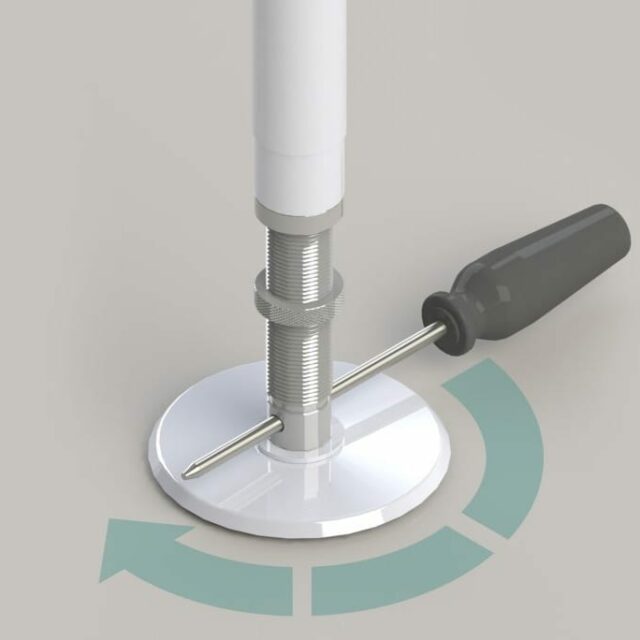 No drilling required. Ideal for relocating. Ideal for removing.
Floor to ceiling poles can easily be adapted according to individual needs and provide extra help when getting up from a sitting position. Installation is quick and easy as the pole is secured by using jackscrew that is so strong that the top plate does not require drilling into the floor or ceiling.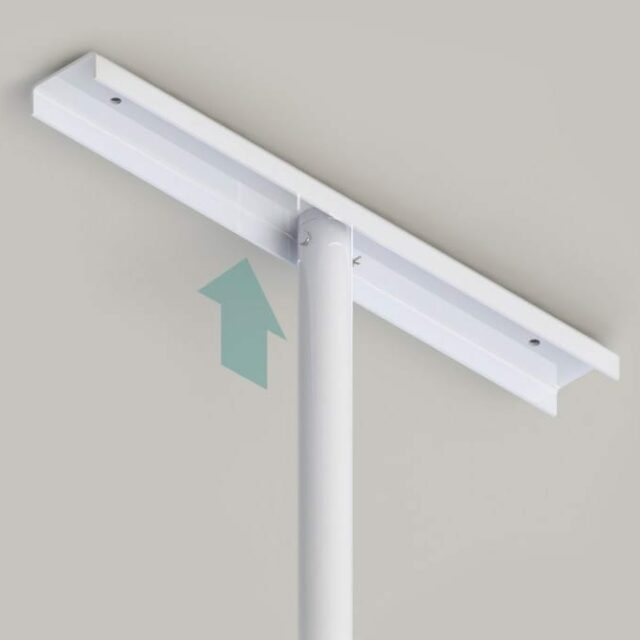 More
INSTALLATION OVERVIEW
SPECIFICATIONS
Tech Specs
Specifications subject to change without notice. Product not intended for outdoor use.
Finish
Anti-microbial powder coat paint (white)
Weight Capacity
Standard: 300lbs / 136kgBariatric: 450lbs / 204kg
Pole Diameter
1.50" / 38mm
Height Range
Standard: 93-99" / 2362-2515mmWith Uni-Fit Extender: 100-120" / 2540-3048mm
Top Plate Length
20" / 508mm (top plate extender option available)
Base Plate Diameter
5" / 127mm
Warranty
Limited Lifetime Warranty
More
FREQUENTLY ASKED QUESTIONS (FAQ's)
Can't Find Your Question Below? Just Chat Us!
The grip material is non-absorbent, so it is unaffected by most solvents and chemical cleaners. We recommend using warm water and soap. If you require a stronger cleaner, avoid using powder or grainy based cleaners. For cleaning and disinfecting in a hospital or care facility setting, an accelerated hydrogen peroxide can be used.
No. We have tested this with repeated removal and installs, with no damage done. There are rubber pads on the ceiling top plate to prevent damaged or marks on the ceiling.
The SuperPole does not have to be bolted to the ceiling, but ceiling top plate MUST extend across at least one ceiling beam. We recommend to check the tension of the pole monthly. The SuperPole Bariatric ceiling top plate must be secured to the ceiling.
The SuperPole is especially beneficial for elderly individuals, due to age-related problems such as loss of balance and mobility issues, as well as those with medical conditions that may cause dizziness or fatigue or physical limitations such as limited range of motion. It is also very useful for people who use a wheelchair as they offer an easy way to transfer from one side of the bathroom to the other without needing assistance for example.
The long length of these poles provides extra security compared to conventional wall-mounted grab bars and offers continuous stability for those who may need extra help when using bathroom facilities. Additionally, they can easily be adapted according to individual needs and provide extra help when getting up from a sitting position.
Reviews
40 Reviews
Rated 4.8 out of 5 based on 40 ratings
Healthcraft has great products
I have purchased many of Healthcraft products. Quality is very very good and price is reasonable for what you receive. Cannot recommend more highly.
No Title
Fantastic. It is a two-fold problem solver. Aids us for toileting and/or bathtub use.