Which Bed Safety Products are Right for you?
"Which of HealthCraft's bed safety products is right for me?"
Each of our bed safety products are designed to provide different levels of support for different scenarios.
What's best for you will depend on the actions you're looking to support, and how much support you're looking for.
Shopping for bed safety?
If you're reading this article, you're probably considering some form of bed safety for yourself or a loved one. Kudos—that's awesome!
If you've started shopping, you may have some questions. Do you need a bed rail or a trapeze? How do you know which products will best fulfill your needs?
This article will help you better understand your options for bed safety. In it, we'll be comparing three different bed safety products we sell based on these factors:
How they help
How they install
How much they cost 
Hopefully, by the end of this article, you'll have a better idea of the right solution for you.
Assista-Rail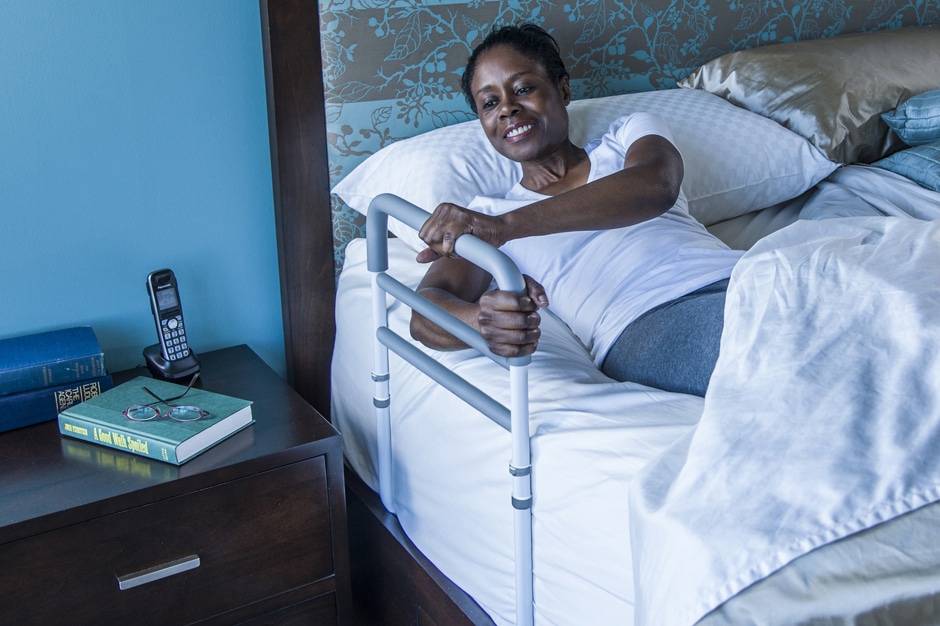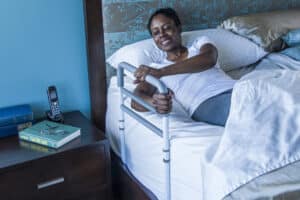 How the Assista-Rail helps
The Assista-Rail is HealthCraft's take on a traditional fixed bed rail. Like all fixed bed rails on the market, it's effective for people looking for mild to moderate support for changing positions or moving around in bed. 
That said, if you need help standing up out of bed due to balance issues (this is quite common), a fixed bed rail may not provide sufficient support of that kind.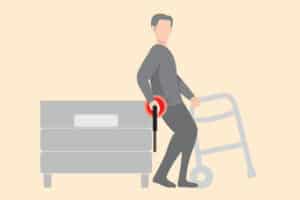 If this isn't a concern for you, then the Assista-Rail or any other fixed bed rail could work for you. If it is, you'll need to consider another option or pairing it with other products to get the support you need.
       
The Assista-Rail installs without any tools by sliding between your box spring and mattress. You then secure it to your bed frame with an adjustable strap.
It fits beds of all sizes, but will not work if your bed doesn't have a firm flat surface below the mattress as provided by a box spring, or if you have an electrically powered moving bed.
Assista-Rail cost
The Assista-Rail is the least expensive bed safety product in this article. 
If cost is your main concern, it might be the right choice, but if you're looking for more support features—keep reading.
Smart-Rail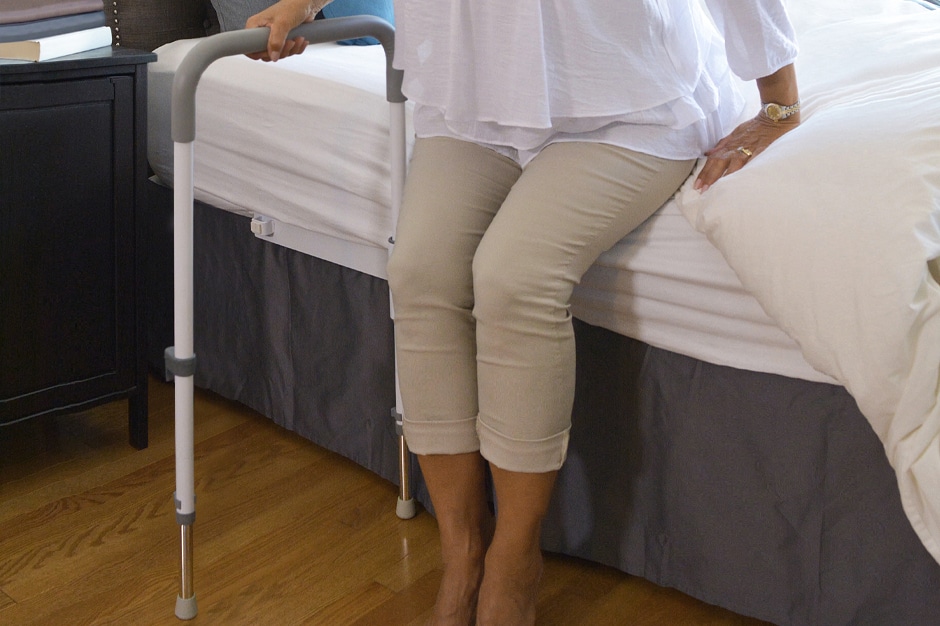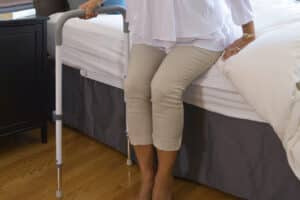 How the Smart-Rail helps
In its locked position, the Smart-Rail provides the same type of support as the Assista-Rail for moving around in bed, but because of its unique swing-open functionality, it also offers improved support for getting in and out of bed.
In 'full-swing', the rail functions similarly to a cane by helping people to support themselves in an upright position. Its pivoting also allows the user to place the support in front or beside them.
Most people looking for support for shifting or changing positions in bed also benefit from this additional support, so we often end up recommending the Smart-Rail. Some people may still prefer a fixed bed rail because they find it feels more secure. 
The Smart-Rail installs in the same way as the Assista-Rail.
One further consideration for the Smart-Rail is making sure you have enough space for it to pivot out next to your bed. If not, you may want to consider a SuperPole with Bar to get even more coverage and the added support of a locking mechanism with a smaller footprint.
Smart-Rail cost
If you're looking for bang-for-buck, optimal-support-features-per-dollar value—the Smart-Rail is probably the right option for you.
e2 Ceiling Mount Trapeze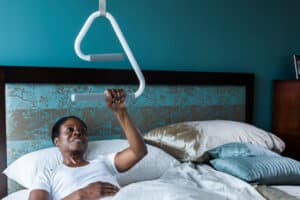 How the e2 Ceiling Mount Trapeze helps
The e2 Ceiling Mount Trapeze allows you to reach up from a lying-down position and use your arms to pull yourself up into a seated position. Although it's among the most ergonomically sound safety trapezes on the market, it does require a fair amount of upper body and grip strength to use comfortably.
Unlike bed rails that offer support for shifting while in bed, the Trapeze is only designed to help get you upright from a lying down position. If this is the issue you're most concerned about, this may be the best option to address it.
If this isn't the only thing you're looking for, you may want to consider pairing the e2 with a bed rail, or a SuperPole with Bar with a Trapeze attachment for maximum coverage.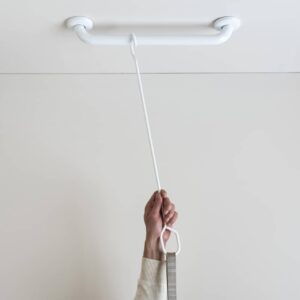 The e2 Ceiling Mount Trapeze gets mounted to the ceiling with a specially treated grab bar screwed into your ceiling joists (beams). This allows the trapeze to slide out of the way when not in use. To do this properly, you'll need a ladder, a stud finder, and a drill. 
Most ceiling joists are spaced 24 inches or 16 inches apart, so the e2 has two size options (24" and 32") to accommodate both standards. 
If you're concerned about screwing into your ceiling, but you still want a trapeze, consider a SuperPole Trapeze instead. 
e2 Ceiling Mount Trapeze cost
Provides excellent support, but you'll need to consider if you're comfortable installing it yourself, or if you'd need to hire an installer or handyman. It shouldn't take a trained pro longer than 30 minutes to install a ceiling-mounted trapeze, but make sure to budget for this (or get free help from a handy family member). 
Which bed safety product is right for you?
If you only need a certain kind of support, any one of these products might be just the thing.
If you only need a bit of support while in bed, the Assista-Rail can provide that. However, if you have the budget and space for it, the Smart-Rail provides the same support plus support for getting in and out of bed. If getting upright in bed is a challenge, the e2 Ceiling Mount Trapeze could be the solution.
If you need multiple kinds of support, it might be a good idea to pair a bed rail and trapeze together for full coverage.
Whatever you're looking for, we hope you can rest easy knowing that you have a better understanding of your bed safety needs, and the solutions we offer!