4.4/5
Rated 4.4 out of 5 based on 55 ratings
(55 reviews)
The bed assist rail unlocks & swings open to provide help with getting into and out of bed, in bed positioning and standing.
DETAILS
DESCRIPTION & FEATURES
Help Make Mornings Easier
The SmartRail is a simple-to-assemble bedside accessory that will allow you to be more independent in your home. Created to satisfy both form and function, it features a supportive bar for turning over at night and a sturdy handle to assist in pulling yourself up. When it comes to getting out of bed in the morning, its easy-to-use pivoting design swings out to support your full standing motion — and tucks away neatly after use to maintain your clean bedroom aesthetic.
Product Features
Support where it's needed most.
The rail can be unlocked from the bed, and moved in front while also being reversible, allowing it to pivot correctly when installed on either the side of the bed. This allows for ergonomic gripping and support for the full standing motion.
Get up and go.
There are two different positions for support: Open (for standing support) and Closed (for in-bed positioning). The open rail moves to center your gravity safely - no twisting and reaching needed.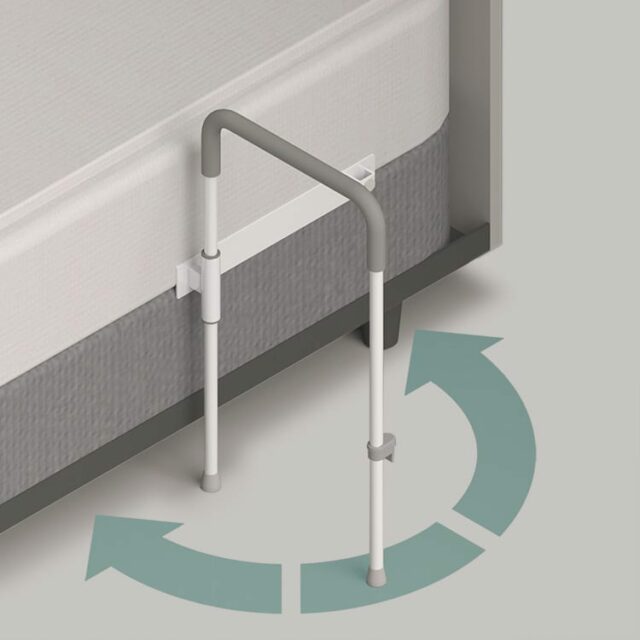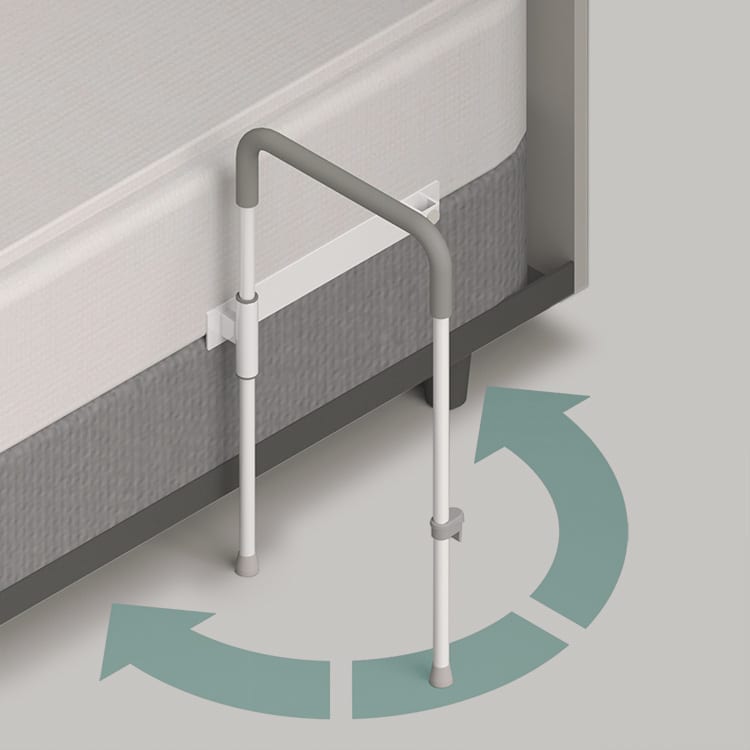 More
INSTALLATION OVERVIEW
SPECIFICATIONS
Tech Specs
Specifications subject to change without notice. Product not intended for outdoor use.
Finish
Powder coat (white)
Weight Capacity
300lbs / 136kg
Rail Diameter
1.5" / 38mm
Rail Length
16.25" / 413mm
Height Range
Total Range: 27-36" / 699-921mmStandard Height: 27.25" / 699mmBuilt-In Leg Extender Range: 2-9" / 51-229mm
Warranty
Limited Lifetime Warranty
More
FREQUENTLY ASKED QUESTIONS (FAQ's)
Can't Find Your Question Below? Just Chat Us!
Yes - in most cases. There must be a flat and secure surface for the mattress and bed rail frame to rest on (i.e. a plywood panel). If the flat surface has gaps or holes, the bed rail frame could drop through, twist or become unstable.
No, the rail doesn't lock when open. It allows the user move the rail for support throughout their range of motion.
The Smart-Rail is height adjustable, but we suggest a maximum rail height setting of 4" / 10.2cm.
Reviews
55 Reviews
Rated 4.4 out of 5 based on 55 ratings
No Title
Product performs as advertised and as expected. My husband has MS, has very little use of his legs and the bed rail seems to help him get in and out of bed.
No Title
Bought this for my Dad. It was easy to install and really convenient to help people with limited mobility to transfer from bed to wheelchair. Would highly recommend this product.
FREQUENTLY BOUGHT TOGETHER