Aging in Place with Confidence: Ensure Safety and Independence For Your Elderly Loved Ones
For our elderly loved ones, there are numerous advantages to aging in place- It allows them to maintain their independence and stay in a familiar environment surrounded by people they know. However, there are also challenges associated with aging in place, particularly for older adults dealing with health and mobility issues, and those who live alone:
Increased risk of falls, which can then lead to serious physical injuries or head trauma.
Social isolation and loneliness
Limited access to healthcare, supplies and other services
Home maintenance and safety
Financial challenges
It is crucial to plan for their long-term care needs and work with other family members, healthcare providers and other people in their community to ensure that they can age in place safely and comfortably.
Fortunately, there are several steps you can take immediately to ensure their safety:
Conduct a home safety check
A home safety check helps identify potential hazards and addresses any safety concerns. What should you include in your checking:
Smoke and carbon monoxide detectors: Make sure that these are working correctly and replace the batteries regularly. Also refill your fire extinguishers, as needed.
Stairways and flooring: Ensure that there are sturdy handrails on both sides of the stairs, or along long hallways and transition areas. Replace rugs and carpets with frayed edges- or it might be better to remove them altogether and invest in non-slip flooring, instead.
Bathroom: Install grab bars in the bathtub and toilet areas to prevent slips and falls. In the absence of walls to mount grab bars on, you can opt for floor-mounted safety equipment such as the SuperPole or the Advantage Rail. Shower seats, barrier-free flooring, non-slip mats are other good additions to make the bathroom safer for your older loved ones.
Kitchen: Move frequently used items to lower shelves to avoid the need for a stool or step ladder. You may want to invest in smart appliances or appliances with timers, to minimize the risk of accidents while cooking.
Room layout: Sometimes, simply rearranging furniture and removing clutter from around the house can already have a huge impact on your older loved one's safety at home. Seniors with mobility issues may struggle to navigate stairs or uneven surfaces, so it's crucial to ensure that the home is easy to maneuver.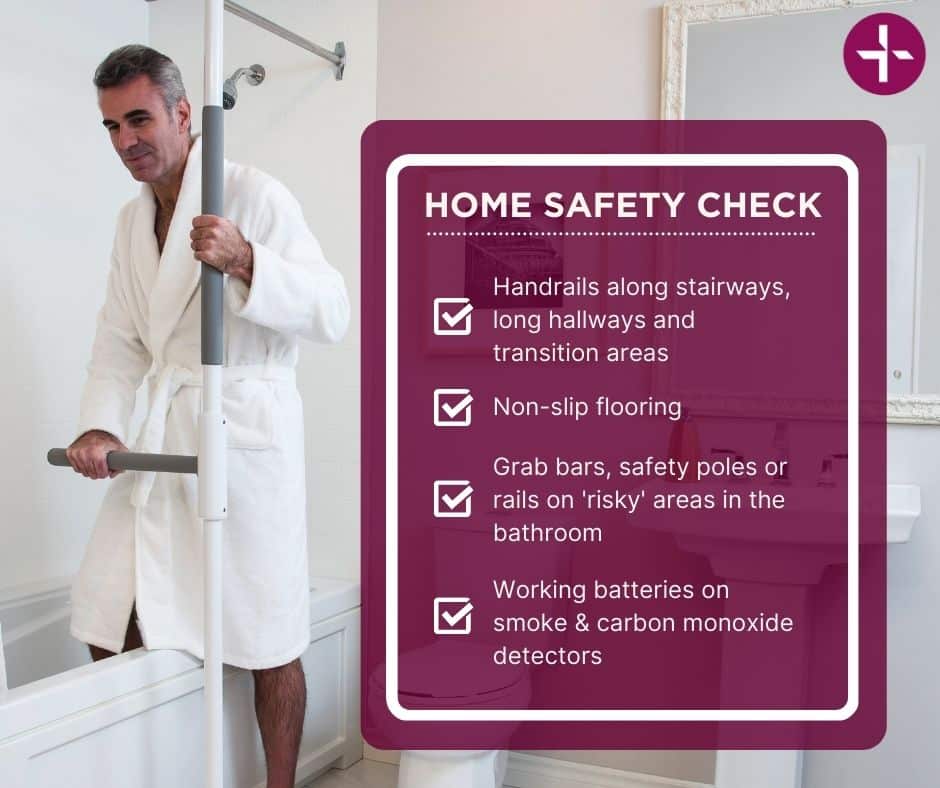 Create a fall prevention plan
According to the Centers for Disease Control and Prevention (CDC), falls are a leading cause of injury and death among older adults aged 65+ in North America, with more than one in four older adults experiencing a fall each year. In Canada, falls are the leading cause of injury-related hospitalizations among older adults, accounting for 85% of hospitalizations in the age group.
These statistics highlight the importance of taking steps to prevent falls and promote safety among older adults. It is important that your older loved ones participate in creating their fall prevention plan, so they will feel more in control of their own safety and well-being.
A fall prevention plan should include the following:
Exercise and physical activities: Encourage your loved one to participate in exercises that improve balance, strength, and flexibility.
Proper attire: Ensure that your loved one has footwear with good support and non-slip soles. Get them adaptive clothing that is easy to put on and remove.
Lighting: Ensure that there is adequate lighting throughout the home, especially in hallways and stairways, and let your elderly loved one know who to call in case they need to have any bulbs checked or replaced.
Safety equipment: Provide an extra layer of protection and help your senior loved one feel more secure when aging in place. Some essential safety equipment includes wearable medical alert systems, security systems (motion detectors, video surveillance), and mobility equipment (wheelchairs, scooters, home lifts).
Encourage them to stay socially active
Social isolation and loneliness are significant issues for older adults, and can lead to depression, anxiety, and cognitive decline. Therefore, it's crucial to keep them engaged in social activities, such as joining a local senior center or participating in community events. Encouraging them to maintain relationships with family and friends, whether through phone calls, video chats, or in-person visits, can also help combat social isolation.
For an older adult who lives alone, it's important to have a plan in place, in case of an emergency. Ensure that your older loved one knows what to do in case of a power outage, natural disaster, or medical emergency. Have a list of emergency contacts readily available, including neighbors, family members, and healthcare providers.
Consider hiring a companion, housekeeper, or caregiver to provide conversation and social interaction
Assist with daily activities such as meal preparation and household maintenance
Fulfill errands
Accompany them to appointments or trips, when necessary.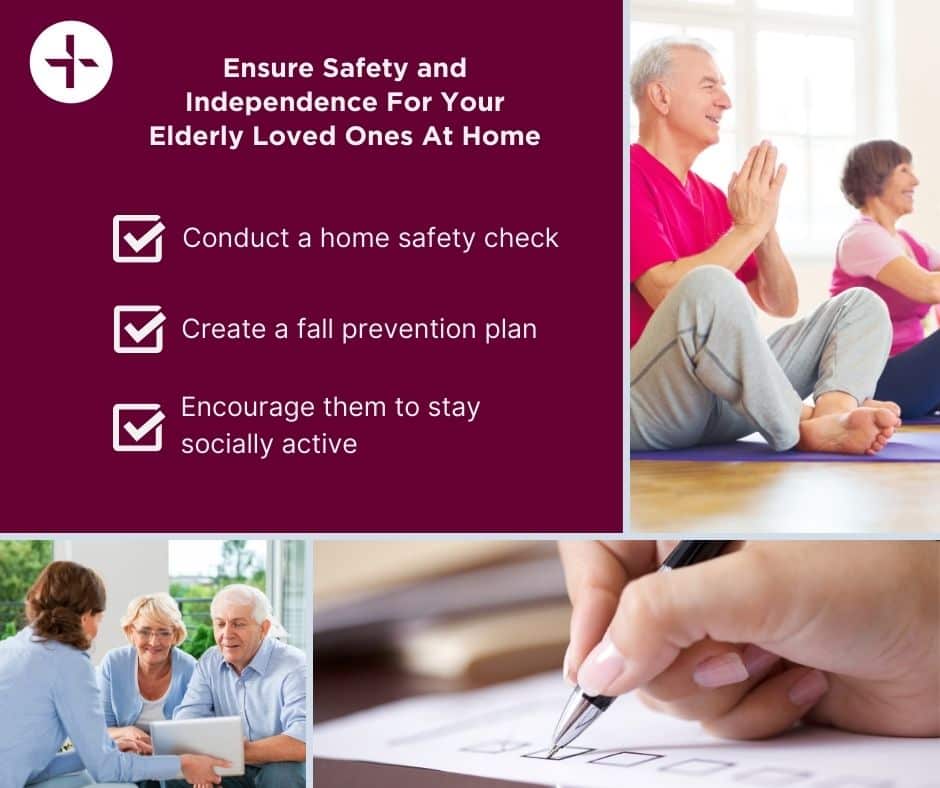 Ensuring the safety and well-being of older adults who age in place requires a multifaceted approach. By conducting a home safety check, implementing fall prevention measures, using safety equipment, encouraging social activities, ensuring accessibility, and having an emergency plan in place, you can help your loved ones age in place safely and independently.