Bathroom Design Trends for a Safe and Accessible Space
Designing a bathroom that is accessible and safe for everyone who uses it is not only a smart thing to do, but also necessary. Aging in place is a growing trend, and many adult children invest in redesigning bathrooms for their aging parents or themselves. When remodeling your bathroom, it is important to consider how to make it functional and comfortable. Here are some of the latest bathroom design trends that promote safety and accessibility.
Ensure Adequate Floor Space:
To ensure an accessible bathroom, it is recommended to have at least 60 inches of open space. This allows room to maneuver, especially if we might require wheelchairs, walkers, or other mobility devices as we age. A larger floor space makes the room feel more open and inviting, as well as easier to clean.
Maximize Lighting:
Lighting plays a crucial role in enhancing safety and comfort in the bathroom. Adequate lighting is necessary to avoid safety risks such as trip hazards, wet floors or other obstacles. Installing smart low lights can be an excellent option for those midnight trips to the bathroom. This will provide enough light to walk safely but not too bright to disrupt your sleep. Consider placing the lights in places like the baseboards to illuminate the floor and guide the way.
Switch to Towel Bars From Hooks:
Towel hooks might seem trendy, but they don't provide as much support as a towel bar. The Plus Series towel bar is much more secure, with the ability to hold up to 500 pounds of weight, providing extra support and stability that a hook lacks. Additionally, towel bars make the bathroom look more organized, creating a sleek and polished look.
Add Grab Bars:
Grab bars are a must-have addition to any bathroom, especially for aging in place. Installing stylish grab bars near the toilet, shower, and bathtub is a great way to increase safety. If you are not remodeling the bathroom, you can still install grab bars with the Easy Mount Hollow Wall Anchor. It provides the reinforced support you need to securely anchor the grab bar in place. Not ready for a grab bar? Consider the Plus Series bath accessories, with safety being the foremost priority, this series offers an excellent, award-winning alternative.
Convert to a Curbless Shower:
A curb less shower is a modern and accessible design trend. This style is growing in popularity as it eliminates the tripping hazard that comes with a raised threshold. It ensures ease of access for people with mobility issues, making it easier to walk, use a walker or a wheelchair to get into the shower. It's functional and secure, making it a versatile solution for any bathroom. Check out this amazing transformation from BuildAble. This aging in place project turned an inaccessible bathtub into a curbless accessible shower that can easily be used for years to come.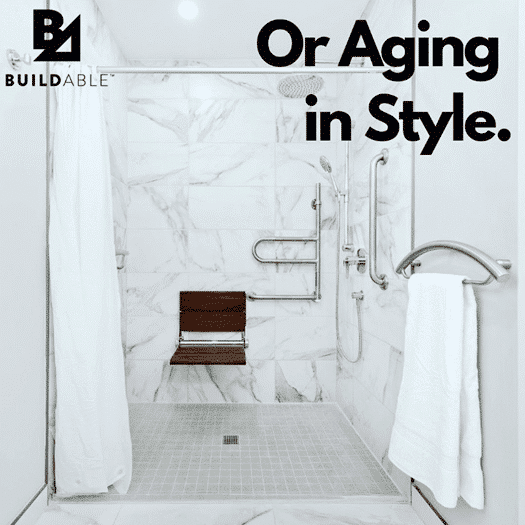 When it comes to bathroom design trends, there are many options to consider that promote safety and accessibility. These tips are designed to give you a head start in optimizing your bathroom's appearance to provide the most comfortable and functional space possible. Incorporate these accessible design trends, and your bathroom will not only look great but also be a safe and accessible space for people of all ages and abilities.