HealthCraft SuperPole 101: FAQ (Part 1)
What does the HealthCraft SuperPole Do?
HealthCraft's popular SuperPole is a floor-to-ceiling pole that can help reduce the risk of falling for people with reduced mobility. By providing support for balancing and transfers, it allows people to move around their homes more safely.
This article is the first in a three-part series called: HealthCraft SuperPole 101.
If you've never heard of the HealthCraft SuperPole, this article is a great place to start learning about it. In it, we've compiled and answered 6 of the most-asked questions to help you better understand the product, and see if it's right for you.
If you have a question about the product that hasn't been answered in this article, you may find answers in the other articles in this series.
Part 2 focuses on questions to help you configure the best SuperPole System for your specific needs, while Part 3 provides in-depth answers to questions about product installation and assembly after you've purchased your own.
If you don't find answers to your specific question in any of these articles—please reach out to us!
Part 1 explains some HealthCraft SuperPole fundamentals by answering the following questions:
1. What is the HealthCraft SuperPole?
2. How does the HealthCraft SuperPole work?
3. How much does the SuperPole cost?
4. Where can I buy a SuperPole?
1. What is the HealthCraft SuperPole?
Let's start with the basics.
The HealthCraft SuperPole is a pressure-fit, floor-to-ceiling pole designed to help people make safer transfers in their homes. Unlike traditional grab bars, it doesn't need to be installed to a wall. This means it can provide 360-degree support almost anywhere in your home.
Its unique accessory—the SuperBar—allows for movable, two-handed, forward-facing support, enabling the user to better visualize where they are moving and take the time they need to make the transfer safely.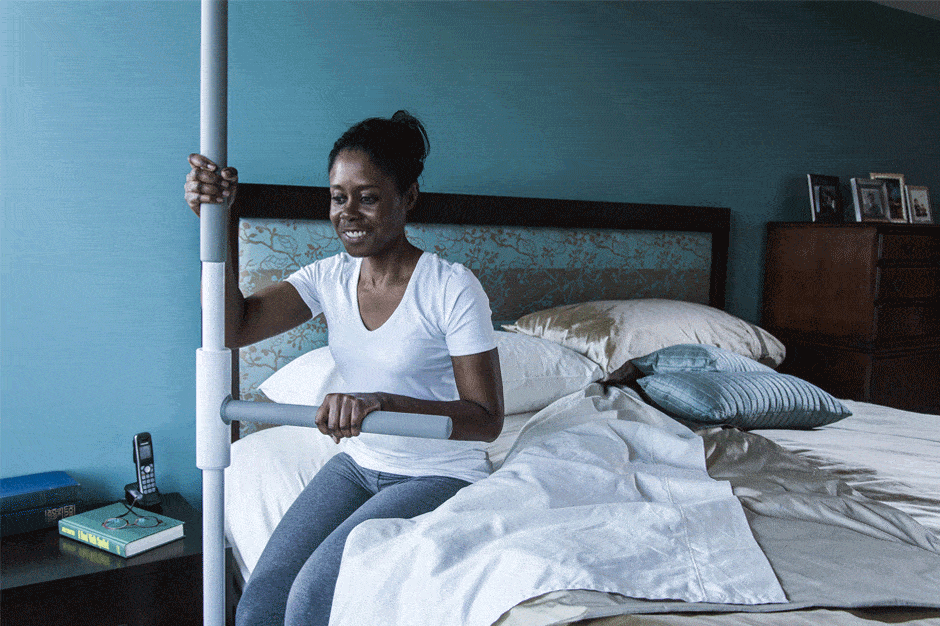 A transfer here means any movement or transition from one position to another. Some common examples of transfers include:
Getting in or out of bed
Sitting down or standing up from a couch or chair
Getting on or off the toilet
Moving from a wheelchair to a seat in a car
etc…
If you or a loved one are looking for support during transfers in the home, the SuperPole with the SuperBar can give you something to grab onto and help reduce the risk of a fall.
2. How does the HealthCraft SuperPole work?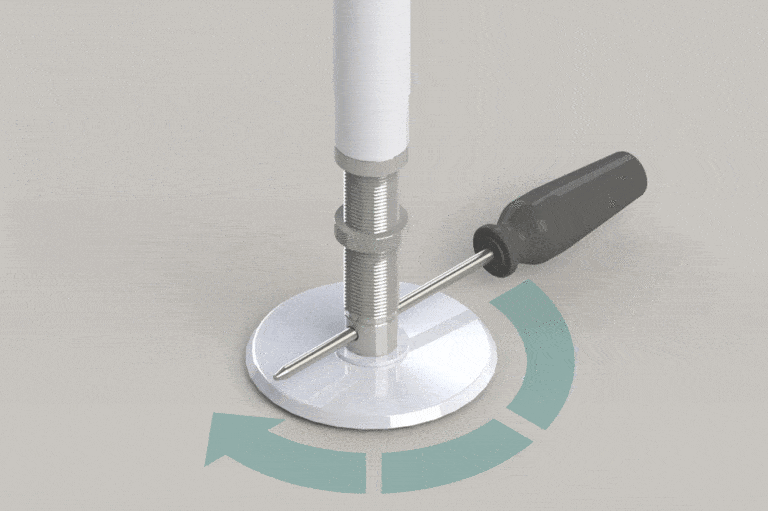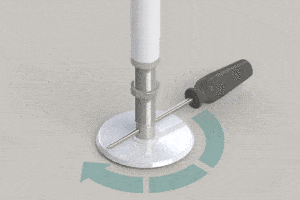 The SuperPole works very similarly to support structures like scaffolding; with a pressure-fit mechanism. Using a jack extension screw at the base of the pole, you're able to increase or decrease its height to create a snug, secure fit between the floor and the ceiling.
This simple mechanism is so strong that in most cases, the SuperPole doesn't require any drilling or screws to be installed.
The SuperBar accessory is able to pivot and lock in place with the help of a piece of custom-manufactured hardware called a castellated collar. Its equally-spaced grooves allow the T-bar assembly on top of it to be lifted, moved, and lowered again to lock the bar in place.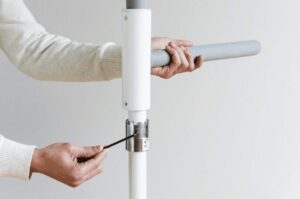 3. How much does the SuperPole cost?
Depending on how it's configured, the price can range from $229 for the simplest option up to as much as $548 for a heavier-duty SuperPole with additional support accessories or installation hardware.
In short, your SuperPole's cost will depend on your specific needs. You can find detailed pricing by playing around with different configurations on the SuperPole product page.
4. Where can I buy a SuperPole?
You can buy it online internationally, but we also have a network of hundreds of retailers and installers in Canada, the United States, and the United Kingdom who provide excellent assistance for choosing and installing a SuperPole system in your home.
Finding a local HealthCraft dealer is a great way to better understand the product, try the product in a showroom setting, and get help installing it in your space without having to worry about any DIY.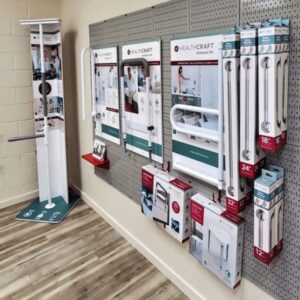 More questions?
If you've made it this far, we hope you have a better understanding of HealthCraft SuperPole basics. By now, you know that it offers a clean, unique approach to keeping you and your loved ones safe throughout the home.
If you still have questions, be sure to check out the next article in this three-part series! It covers 6 more commonly asked questions to help you choose the right SuperPole to meet your needs.
Still looking for answers after buying your SuperPole? No problem! Part 3 in this series provides an in-depth guide to installing and assembling almost any SuperPole configuration!
If you've read all three pieces and still can't find answers to your specific questions, please reach out to us directly and sign up for our mailing list. We're committed to answering your questions and subscribers are the first to find out about updated answers and new articles (they also get access to exclusive discounts throughout the year).