Centralizing Support with Pivot & Lock Technology
The Most Dangerous Step You Can Take
Did you know that you are almost 5 times more likely to fall while getting out of the bathtub than getting into it?
Falls are an epidemic which can affect the health and life of an entire family… and it happens to nearly 3 million Americans and Canadians each year.
Losing your balance on a wet and slippery surface can lead to an injury that can happen in an instant. Since grab bars are fixed to the wall, they quickly lose their effectiveness the further away someone is from them. To help overcome the support challenges fixed grab bars can provide, HealthCraft created the Pivot & Lock Technology. This system creates a centralized support that moves easily and comfortably with the user towards their intended path of motion.
How Pivot & Lock Works: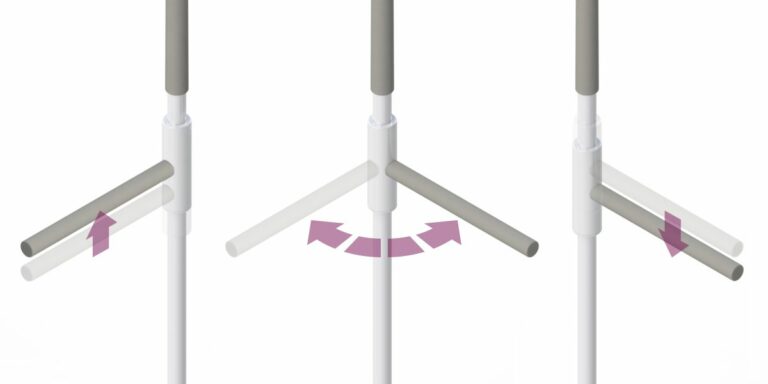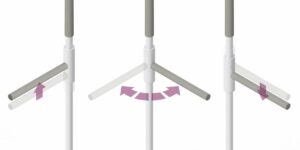 Pivot & Lock Technology is designed to extend a user's range of motion and ease transferring movements by providing a movable weight-bearing support surface exactly where they need it most. Pivot & Lock always provides support directly in front of the user as they move, increasing their confidence and encouraging the natural tendency to reach for support in front rather than beside or behind them. By simply lifting, moving, and locking the horizontal bar in place, the user can maintain support 100% of the time while leaning, pushing, pulling, or holding onto the bar.
How it Prevents Falls Exiting the Tub
In the case of reducing falls when exiting the bathtub, Pivot & Lock technology can be applied to the SuperPole and placed just outside the bathtub. It provides leaning support for stepping over that tricky bathtub threshold.
Pivot & Lock technology provides the most complete and safest movable support available on the market today. It can greatly reduce the risk of falls not just in exiting from the bathtub, but also when standing up from the bed, sitting down in a favorite chair or during transfers.
For more information on how Pivot and Lock can keep you safe, visit the SuperPole with SuperBar, HealthCraft DependaBar and Advantage Rail products.