What Length PT Rail Should I Choose?
Purpose-built toilet safety
If you're looking for thoughtful, purpose-built support for getting on and off the toilet—the PT Rail is a solid option. Its ergonomic offset design and its fold-away functionality can make bathroom safety a flexible option for anyone in your home.
But it comes in 3 different lengths—28-inch, 32-inch, and 36-inch—so which one should you get?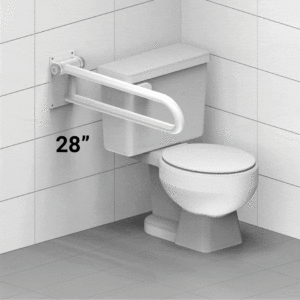 Picking the right-sized PT Rail
To pick the right-sized PT Rail for you or your loved one, there are a few things you need to know:
Understanding how the PT Rail works
Understanding the support needs of the primary user 
Understanding the dimensions and construction of your bathroom
1. Understanding how the PT Rail works
If you struggle with balance, or you have regular soreness in your knees or hips—sitting down and standing back up can become challenging. Unfortunately, these movements are at the core of our toileting routines.
The PT Rail is a fold-down grab bar designed specifically to make these transfers on and off the toilet easier and safer.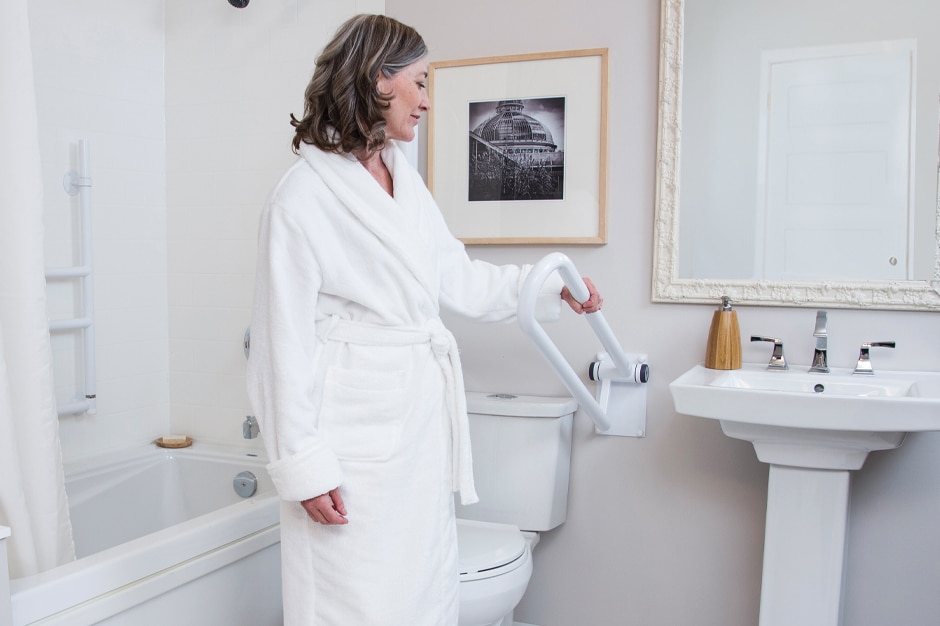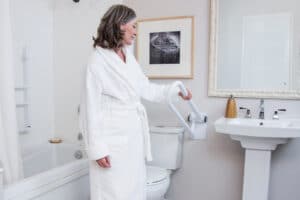 Grabbing onto a single PT Rail or a pair of them while you sit down can help you balance and reduce strain on your knees and hips as you lower yourself. Once you've finished using the toilet, a PT Rail allows you to use both upper- and lower-body strength to stand up while providing additional stability to reduce your risk of falling.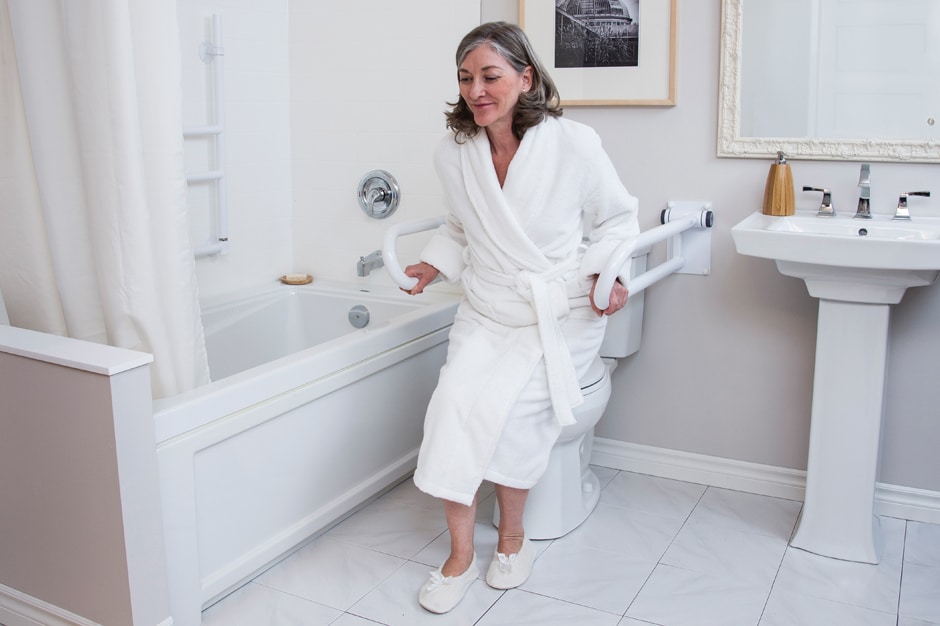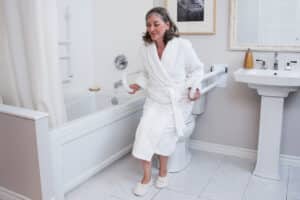 2. Understanding your support needs
An important factor in determining the right-sized PT Rail for you or a loved one is your particular support needs. 
Rule of thumb—the longer the rail, the further away from the toilet you'll be supported. If you're shopping for someone with more challenging balance issues or joint pain, you should consider the longer PT Rail sizes. This will give them more space (and time) to find their balance and get comfortable getting on or off the toilet.
The longest size (36") is primarily meant for ADA compliance (commercial needs) in public spaces, but depending on your needs, you may benefit from the additional length.
On the other hand, if the person you're shopping for uses a cane or a walker in the bathroom, make sure they'll have enough clearance to maneuver with the PT Rail folded down. If you're not sure, it's always a good idea to talk to an occupational therapist.
3. Understanding the dimensions of your bathroom 
The most limiting factor that can affect the size of your PT Rail (or whether you can have one or two of them) is the size of your bathroom. 
If you're mounting your PT Rail to the wall, you'll need to make sure there is a structural wood stud or blocking present in the location where it will be mounted. This ensures that it will support your weight when in use. 
Below are some things you might want to consider when deciding on PT Rail sizing:
Availability of space next to your toilet
Clearance available in front of your toilet
Distance between your toilet tank and the wall
Shelves above the toilet
How much space do you need next to your toilet for a PT Rail?
If your toilet is in a narrower space, you should still be able to get a single PT Rail in place as long as there are studs and blocking, and at least 5 inches between the side of your toilet tank and the adjacent wall.
If you don't have this amount of space, you should consider other options for toileting support.
Clearance in front of your toilet
The typical depth of an average toilet is between 28 and 30 inches, and in most bathrooms, there are at least 24 inches (2 feet) of floor space in front of the toilet.
Assuming you have the required structural components behind your walls, you could theoretically choose any length of PT Rail in a space this size. 
If you're concerned about getting caught behind your PT Rail, you may want to consider one of the smaller sizes (28 or 32 inches).
Once again, we recommend speaking to an occupational therapist to help you decide. Depending on your space, and your needs, it may make sense to prioritize a longer rail for added support or a shorter rail for easier clearance.
If the depth of your bathroom near the toilet is quite narrow (perhaps you have a wall a short distance in front of your toilet), you should still be able to accommodate a 28-inch PT Rail, but if you're concerned about clearance, you may want to consider a SuperPole with Bar or other wall-mounted options for toilet safety.
How far is your toilet from the wall?
In most bathrooms, toilets tend to be positioned close to the wall, but in larger bathrooms, this is not always the case. 
If you're planning to mount your PT Rail to the wall, and your toilet is more than a few inches away, you may want to consider a larger size to make up that distance. You may also want to consider mounting a smaller PT Rail with a floor mast to solve this problem.
Shelves above the toilet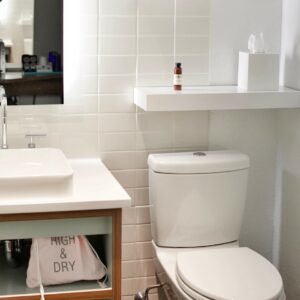 If you have shelves above the toilet, ensure that the PT Rail won't interfere with them when it's folded up. Be sure to measure carefully, and consider other options if necessary.
So, what size PT Rail should I choose?
The short answer? It depends. Most bathrooms, particularly if you're renovating anyway, will be able to accommodate the 28-, 32-, or 36-inch PT Rail. It's really about finding out what makes sense for you and your family.
If you talk to an occupational therapist and measure your space carefully to avoid any 'gotchas'—you'll find the right solution to support your family's toileting routines.