Invisia Accent Ring
Safety Hidden in Plain Sight
The Invisia Accent Ring is the perfect solution for people seeking a functional grab bar that seamlessly blends in with your existing bathroom décor. This elegant ring is specially contoured to fit around shower fixtures, providing a solid grasp for safety and security. Built to last, this grab bar is watertight, prevents rust, and keeps screws completely hidden. 
Whether you're looking to remodel your entire bathroom or add a subtle safety feature to your existing set-up, the Invisia Accent Ring is a stylish and practical choice that's easy to install and built to last.
To your taste.
Available in 4 different finishes, you can be sure your Accent Ring will go beautifully with the rest of your bathroom fixtures that you already have or are looking to purchase.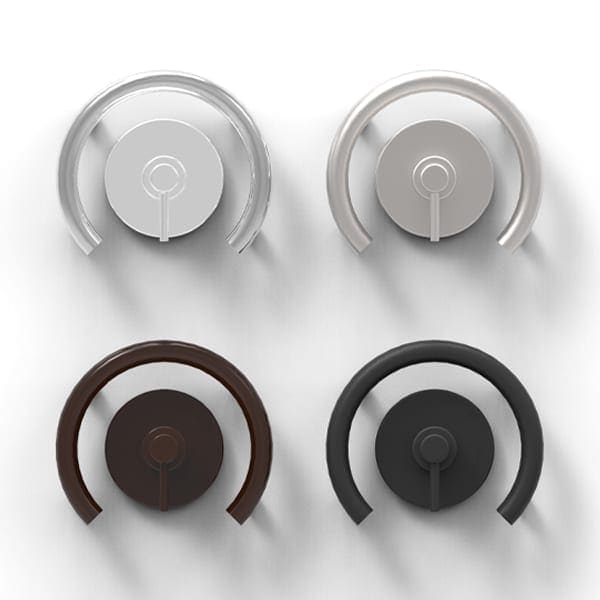 Beautiful, functional details.
In addition to being a fraction of the size of typical grab bar mounting hardware, ours is watertight by design to prevent rust, and keeps screws completely hidden.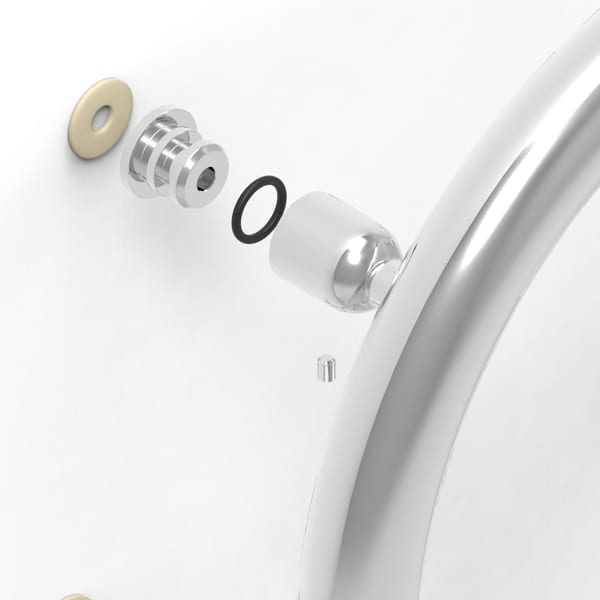 Tech Specs
Specifications subject to change without notice. Product not intended for outdoor use.
Finish
Black, Brushed, Chrome, Oil Rubbed Bronze
Weight Capacity
500lbs / 227kg (ADA Compliant)
Rail Diameter
1.25" / 32mm (ADA Compliant)
Rail Height
10.3" / 262mm
Wall Clearance
1.50" / 38mm (ADA Compliant)
Warranty
Limited Lifetime Warranty
Reviews
Elegant and super-sturdy
We bought the Invisia accent ring, shower shelf, towel bar, and linear bar for a bathroom renovation some years ago. Everyone tells us how beautiful they are, and the person who installed them said they were far sturdier than other grab bars he had installed elsewhere. So we are installing them again in our second bathroom renovation!
No Title
I am really happy with this hand towel holder. It looks great in the room, and was easy to install. The size and quality are just what I was hoping for. Love the look!
No Title
This item is beyond my expectations. Not only is it a very substantial grab bar but it is stylish. I wanted to add a bar to steady myself stepping in and out of my new soaker tub. I did not want anything that was too obtrusive on the back wall. It is perfect. My contractor looked a little skeptical at first but is now a believer.
No Title
Love, love this Accent Ring support rail in my new shower!
No Title
Excellent ! Heavy weight allows a firm grip, prevents you from grabbing the shower control unknowingly. Looks great!
Write a Review
Your email address will not be published.
FAQs
Can't find your question below? Just CHAT us!
If there is partial structure for mounting (i.e. minimum one point fastens into structural wood and no structure available for other contact points), we recommend hollow wall anchors (supplied and weight rated) for the contact points with no structure. This will reduce the weight capacity to 350lbs/159kg.
If there is no secure structure for mounting, we recommend hollow wall anchors (supplied) for all contact points. This will reduce the weight capacity to 200lbs/90.7kg
While both are stainless steel, the appearance of the finish is differs because the stainless steel Easy Mount Grab bars are knurled. The Invisia Accent Bar is designed to match the Invisia accessories perfectly while providing the same function of a grab bar.