3 Modern Designs And Tips For A Safe And Stylish Place
Are you considering a bathroom upgrade for yourself, your older loved one, or your client that combines both style and safety? A well-designed and accessible bathroom offers a plethora of benefits that extend far beyond just aesthetics. Let's explore some of the key advantages that make investing in such a space well worth it:
Fall Prevention: For older adults or those with mobility challenges, the bathroom can be a potential hazard due to slippery surfaces and obstacles. By incorporating safety features like grab bars, non-slip flooring, and barrier-free shower stalls, the risk of falls is significantly reduced, providing a safer environment for all users.
User Comfort:  An accessible bathroom can be adapted to suit individual needs. Features such as walk-in showers with a shower chair, adjustable-height vanities, and user-friendly faucets and controls ensure the bathroom remains a comfortable and enjoyable space for all users.
Mental Well-being and Peace of Mind: The knowledge that the bathroom is equipped with necessary safety measures brings a sense of peace and security, alleviating stress and anxiety. Additionally, a bathroom that aligns with the user's aesthetic preferences fosters feelings of happiness and satisfaction.
Enhanced Independence: For your older loved ones who wish to age in place, having a bathroom that caters to their needs allows them to maintain their autonomy and self-sufficiency. By reducing barriers and obstacles, an accessible bathroom fosters independence and maintains a sense of dignity for its users.
Inclusivity: A well-designed accessible bathroom ensures that every member, regardless of age or ability, can use the bathroom comfortably and safely. This aspect of inclusivity is essential, especially in multi-generational households where different age groups have varying needs.
Increased Property Value: Accessibility features are increasingly sought, and potential buyers or renters appreciate a bathroom catering to safety and comfort needs.
Below, we will delve into three popular and modern home bathroom designs, providing not only aesthetic inspiration but also valuable tips on how to ensure both safety and comfort. We will guide you on seamlessly integrating grab bars and safety equipment into each unique style, ensuring that safety remains a top priority without sacrificing style.
Minimalist Spa Retreat
Embodying the tranquility of a luxury spa, the Minimalist Spa Retreat bathroom design is all about creating a serene and calming atmosphere. Clean lines, neutral or pastel shades, and natural materials like stone, wood, and plants are the key elements of this style. Freestanding bathtubs or spacious walk-in showers with rainfall showerheads and body jets are standard features, further enhancing the spa-like ambiance. Soft and warm lighting complements the design, while cleverly integrated storage ensures a clutter-free environment.
To prioritize safety in this soothing space, consider incorporating grab bars and safety equipment that seamlessly blend into the bathroom's design. The HealthCraft Invisia Collection is an excellent choice, offering multi-purpose grab bars that serve dual functions, such as towel bars with built-in grab bars or shampoo shelves that double as grab bars, maintaining both style and practicality. Additionally, you can enhance safety with stylish Accent Bars and Accent Rings that add a designer touch to the space.
For added convenience and security, consider investing in a shower chair like the SerenaSeat, which can be easily tucked away when not in use, maintaining the minimalist aesthetic. For those seeking a more accessible approach, transforming your bathtub and shower into walk-in models with barrier-free bathroom stalls can ensure a seamless blend of functionality and style, all while ensuring safety remains a top priority throughout your serene spa-inspired bathroom.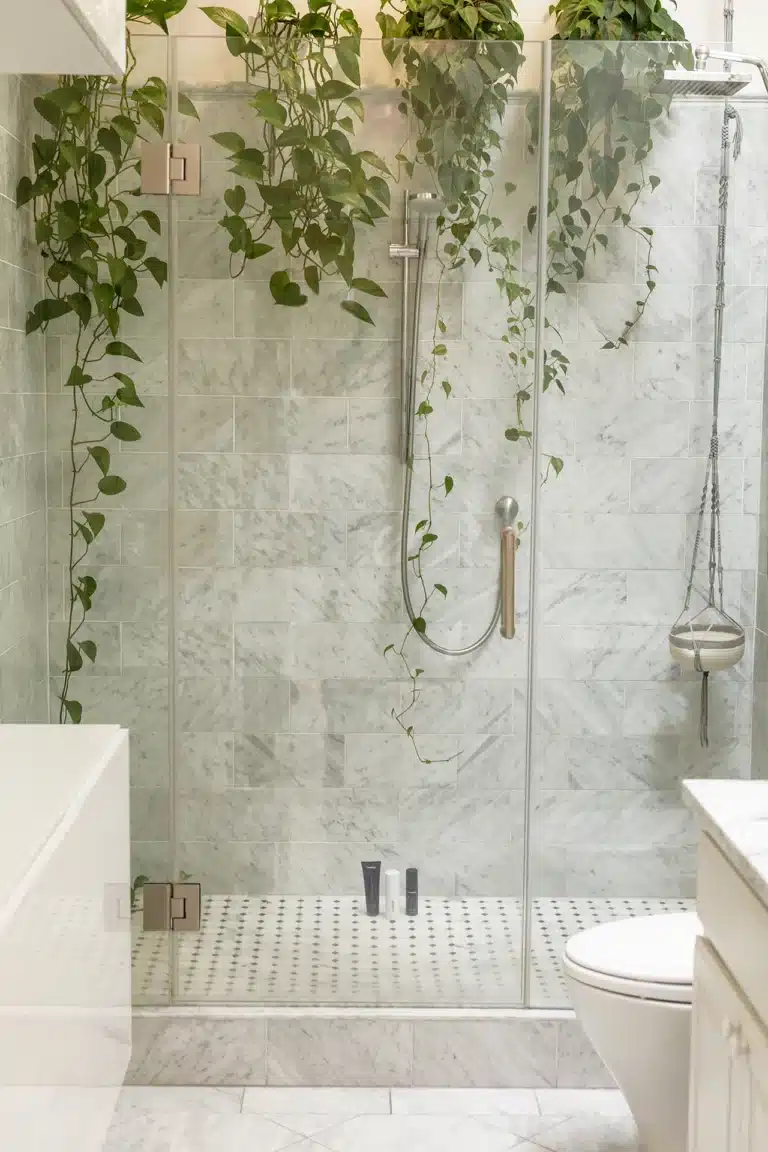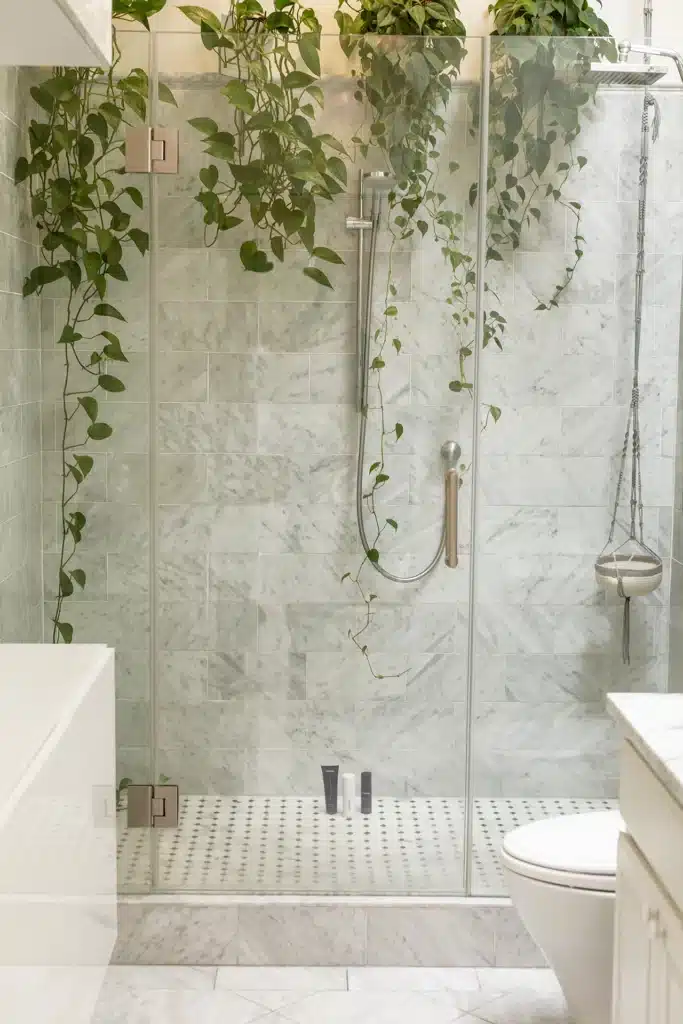 Industrial Chic
Embracing the rugged and raw aesthetic inspired by urban lofts and warehouses, the Industrial Chic bathroom design exudes an edgy charm. Prominent features include exposed brick walls, concrete or concrete-like tiles, and metal fixtures. The color scheme revolves around black, gray, and metallic tones, creating a bold and distinctive look. Vintage or retro elements, such as Edison bulb light fixtures and reclaimed wood accents, add character and nostalgia. Freestanding tubs with a vintage vibe or open-concept showers with black-framed glass are popular choices within this design style.
To ensure safety blends seamlessly with the raw and edgy look, consider incorporating standard stainless steel grab bars in either silver or black finish. HealthCraft's Easy Mount Grab Bars are an ideal choice, offering simple and no-frills designs that perfectly complement the aesthetics of the Industrial Chic style.
Similarly, a barrier-free shower stall complements this design and enhances accessibility. If your bathtub features a black or darker color, consider exploring tub-cut manufacturers that can customize the color for a cohesive appearance. Alternatively, if a tub-cut isn't feasible, ensure the user's safety by providing a bamboo shower chair. The darker brown shades of the bamboo material will blend harmoniously with the wood accents while offering a safe and moisture-resistant option. For this purpose, check out HealthCraft's CornerSeat, crafted from bamboo and available in various wood stain shades to perfectly suit your Industrial Chic bathroom design.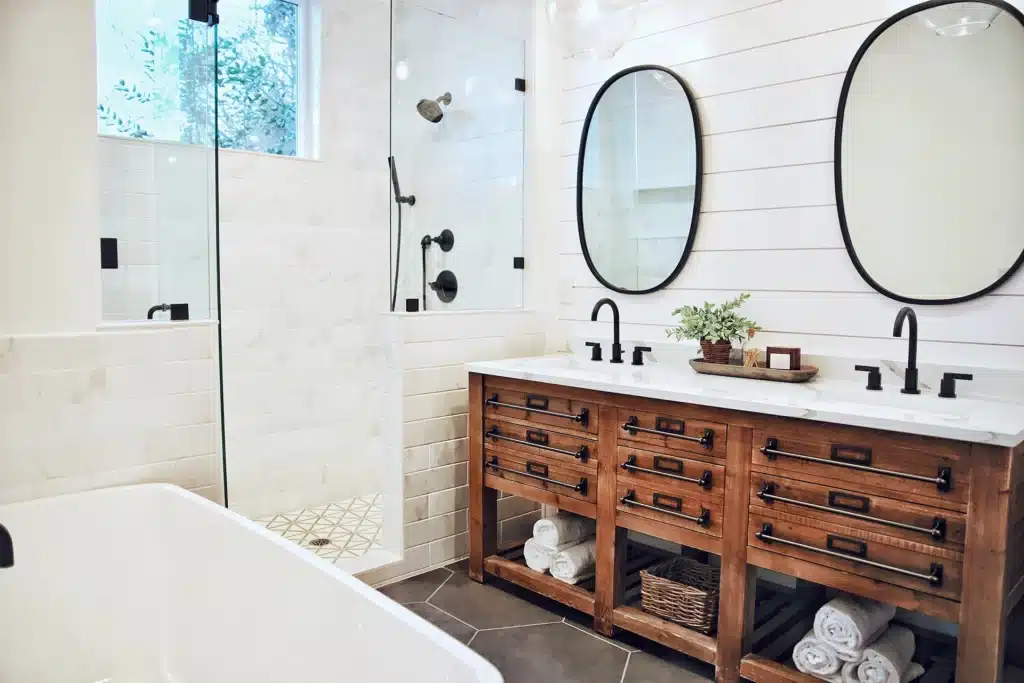 Mediterranean Charm
The Mediterranean bathroom concept draws inspiration from serene coastal regions surrounding the Mediterranean Sea, exuding a relaxed and charming ambiance. Warm earthy tones like sandy beige, terracotta, creamy white, and shades of blue infuse the design with tranquility, complemented by natural materials such as limestone, marble, and wooden elements, along with elegant archways and curved design elements. Embracing vibrant patterns and colors, mosaic tiles accentuate the walls, backsplashes, and shower or bathtub surroundings, adding to the rustic charm of this style. Meanwhile, large windows and skylights work together to maximize natural light and ventilation, further enhancing the coastal essence of the space.
When it comes to safety, discreet grab bars that seamlessly blend into the design are ideal for a Mediterranean bathroom. Hidden grab bars, such as those from HealthCraft's Plus Series that double as everyday bathroom essentials, provide reliable support without compromising aesthetics. To ensure safety while maintaining the Mediterranean allure, opt for non-slip tiles or flooring with Mediterranean patterns, instead of pebbles and cobbled flooring that may hinder walking, especially for those with mobility concerns.
A curbless or barrier-free shower area aligns beautifully with the bright and airy vibe of a Mediterranean bathroom. Complement this style with safety equipment and accents in light colors and natural materials, such as the SerenaSeat PRO with matte white metal finish and light bamboo color.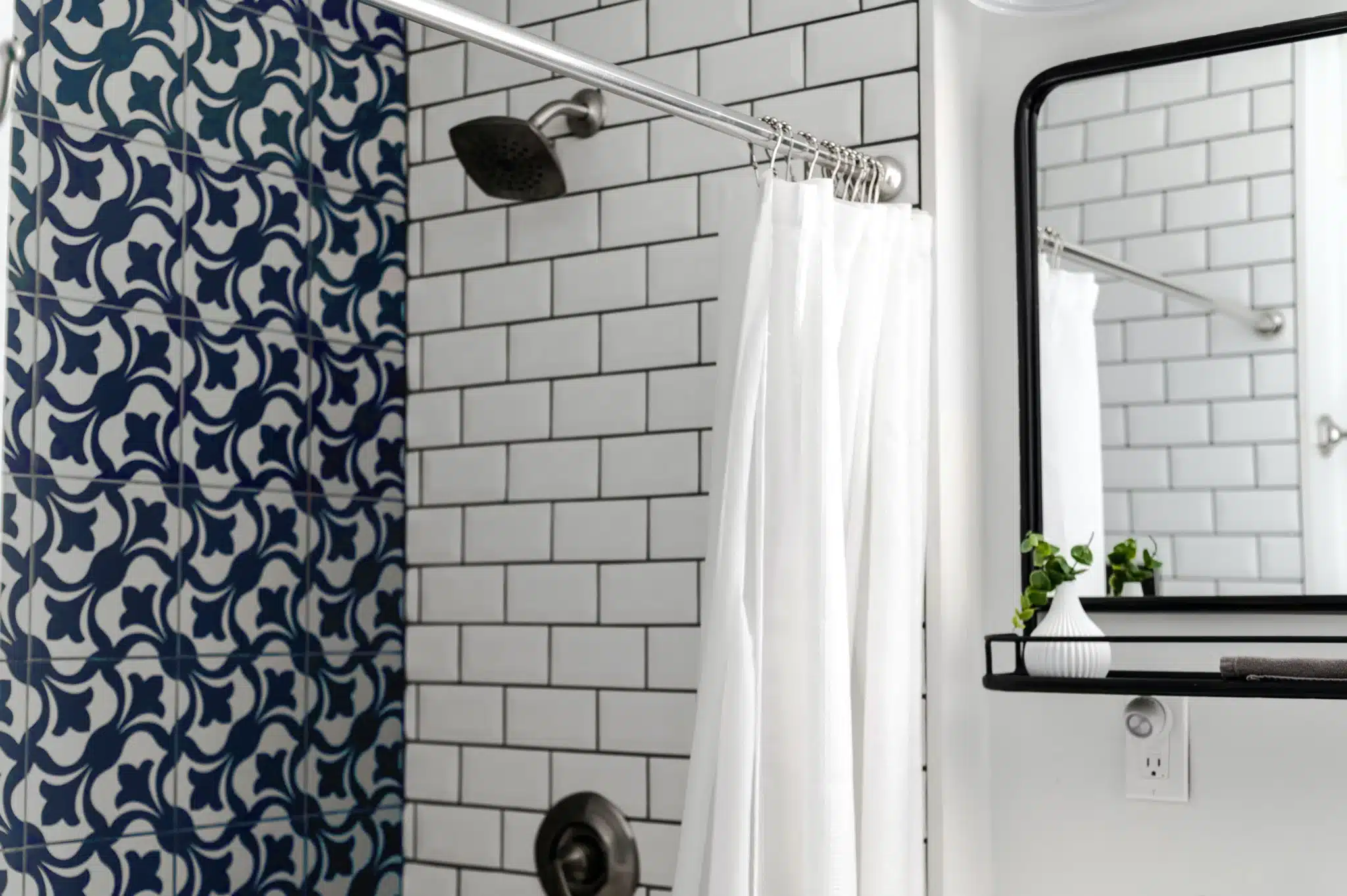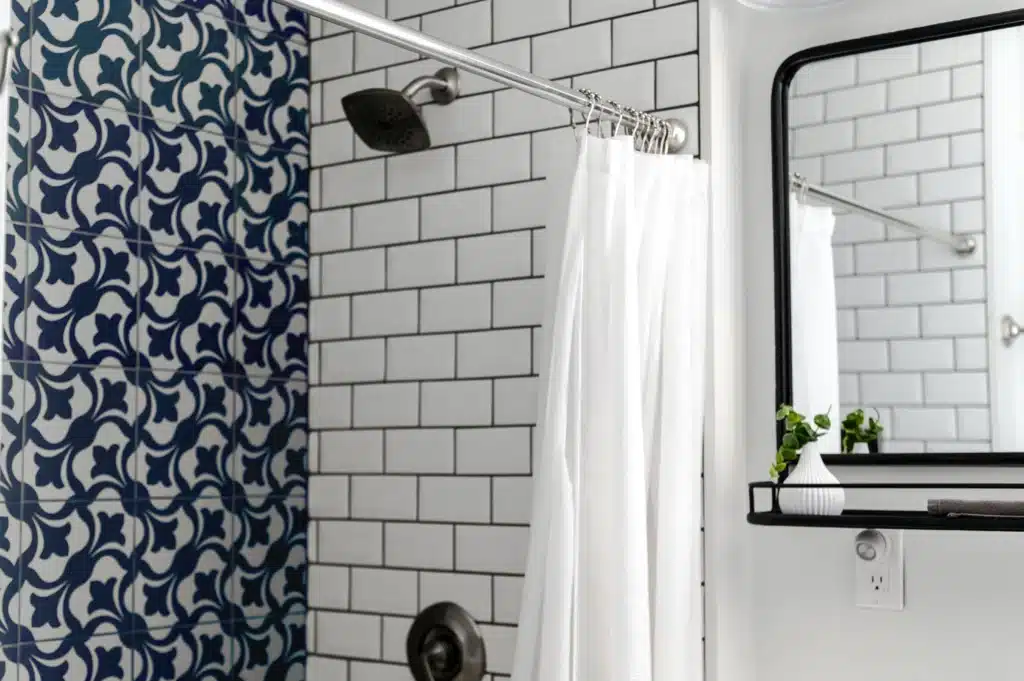 The world of bathroom design offers a myriad of captivating styles, and the three popular concepts we explored- Minimalist Spa Retreat, Industrial Chic, and Mediterranean Charm- showcase how style and safety can harmoniously coexist. While aesthetics elevate the space, safety remains the most crucial consideration.
To ensure a safe and secure bathroom environment, remember these essential tips:
Prioritize fall prevention by incorporating grab bars and handrails strategically throughout the bathroom.
Avoid overcrowding the space with unnecessary elements to maintain accessibility and ease of movement.
Opt for non-slip flooring to prevent slips and falls.
Choose easy-to-handle controls like levers instead of round knobs for effortless operation.
Embrace the idea of a curbless or barrier-free shower and bathtub area to enhance accessibility for all users.
Remember, style and safety can go hand-in-hand, and with thoughtful design choices, you can transform your bathroom into a haven that reflects your or your older loved one's personal taste while providing the utmost comfort and security for everyone.