Invisia Wall Toilet Roll Holder
Sale!
Truly Seamless Safety
We all need a hand sometimes, and that's where the Invisia Wall Toilet Roll Holder will provide a safe and stylish grip to keep you steady when you need it most. 
Available in four finishes to match any bathroom décor, this grab bar's bold design cleverly disguises safety with additional convenience features you'll love. But don't let its good looks fool you — this grab bar is built to last, with heavy-duty construction that can support up to 500 lbs. Whether you're looking for a remodel to help you age in place or want to add a touch of style to your bathroom, the Invisia Accent Ring is perfect.
No springs attached.
Instead of a traditional spring-loaded toilet roll holder, we employ a simple metal rod for easier roll replacement.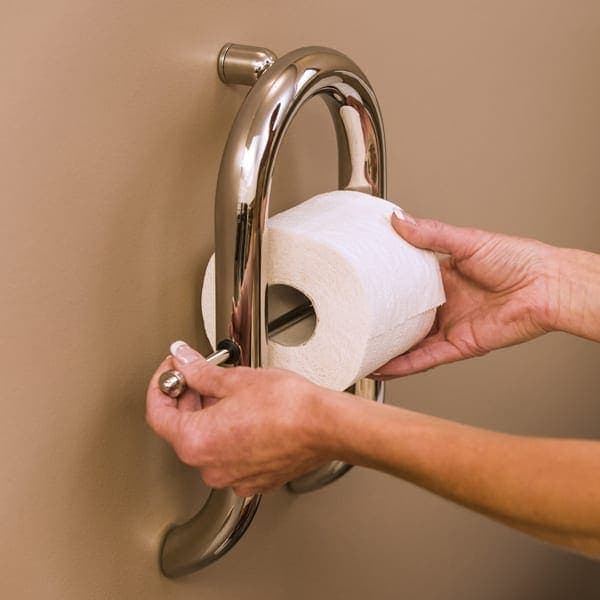 To your taste.
Available in 4 different finishes, you can be sure it will go beautifully with the rest of your bathroom upgrades.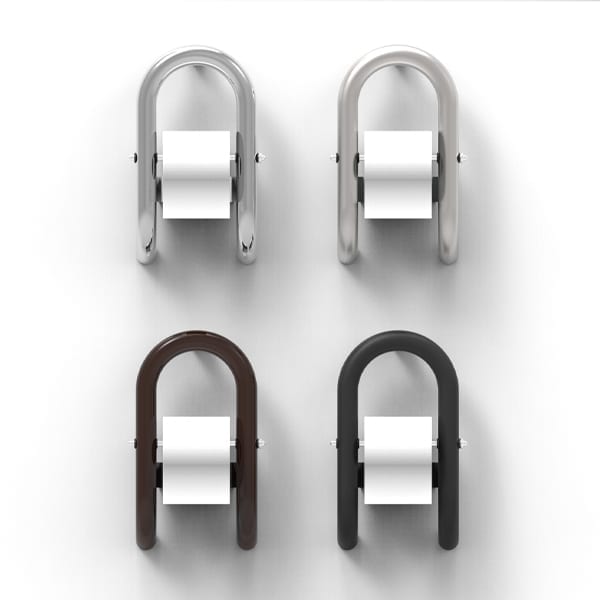 Tech Specs
Specifications subject to change without notice. Product not intended for outdoor use.
Finish
Black, Brushed Stainless, Chrome, Oil Rubbed Bronze
Weight Capacity
500lbs / 227kg (ADA Compliant)
Rail Diameter
1.25" / 32mm (ADA Compliant)
Wall Clearance
1.50" / 38mm (ADA Compliant)
Warranty
Limited lifetime
Patent Number
Weight Capacity / 227kg
Reviews
No Title
I really like this stylish tp holder; sturdy and handy to use.
Write a Review
Your email address will not be published.
FAQs
Can't find your question below? Just CHAT us!
Simply slide the pin out, position the roll between the rail, and slide the pin back into place. The precision of the pin alignment makes this a quick and easy process.
This spacing will easily fit a standard size toilet roll, but does have a maximum size limit of 4.5"/114mm for large rolls.
If there is partial structure for mounting (i.e. minimum middle points fastened into structural wood and no structure available for other contact points), we recommend hollow wall anchors (supplied and weight rated) for the contact points with no structure. This will reduce the weight capacity to 350lbs/159kg. If there is no structure for mounting, we DO NOT recommend mounting Toilet Roll Holder on hollow walls.