Types Of Grab Bars For Your Home
Ensuring the comfort and well-being of our older family members is of utmost importance. In the quest for creating a safe and inviting home environment, every detail matters. That's why we turn our attention to the installation of grab bars– a simple yet effective solution for enhancing safety and preventing falls.
Today's grab bars go beyond functionality, offering stylish designs that seamlessly blend with your home decor. They provide the support and stability your loved ones need while adding an elegant touch to their living spaces.
In this article, we will explore the range of grab bars specifically designed for the bathroom and bedroom. Learn how these grab bars can not only bolster your home's security, but also enable your family members to age in place with confidence.
Bathroom
The bathroom is a critical area prone to slip and fall accidents, especially due to its wet surfaces. Your older loved ones are particularly vulnerable to bathroom falls due to factors such as reduced balance, weakened muscles, slower reaction times, and age-related vision changes.
Here's an alarming fact: 81% of the approximately 234,094 nonfatal injuries resulting from bathroom falls in the United States in 2008 involved individuals aged 65 years and older. These statistics underscore the vulnerability of older adults in the bathroom environment and highlight the urgent need to implement safety measures like installing grab bars to reduce the risk of falls. To enhance bathroom safety, focus on installing grab bars in these vital locations:
Near the shower or bathtub area:
Place a grab bar near the faucet handles for support while maneuvering the handles and controls.
Install a long horizontal bar along the side wall. The longer, the better for more comprehensive balance support.
Position a vertical grab bar close to the shower or bathtub entrance – which is generally the most wet area in the bathroom.
To maximize functionality and space in the bathroom, consider using grab bars that serve multiple purposes. The HealthCraft Plus Series offers versatile options like the Shampoo Shelf and Corner Shelf. These grab bars not only provide essential support but also function as convenient storage spaces, allowing you to keep your bathroom essentials within reach while maintaining a secure grip.
Beside the toilet: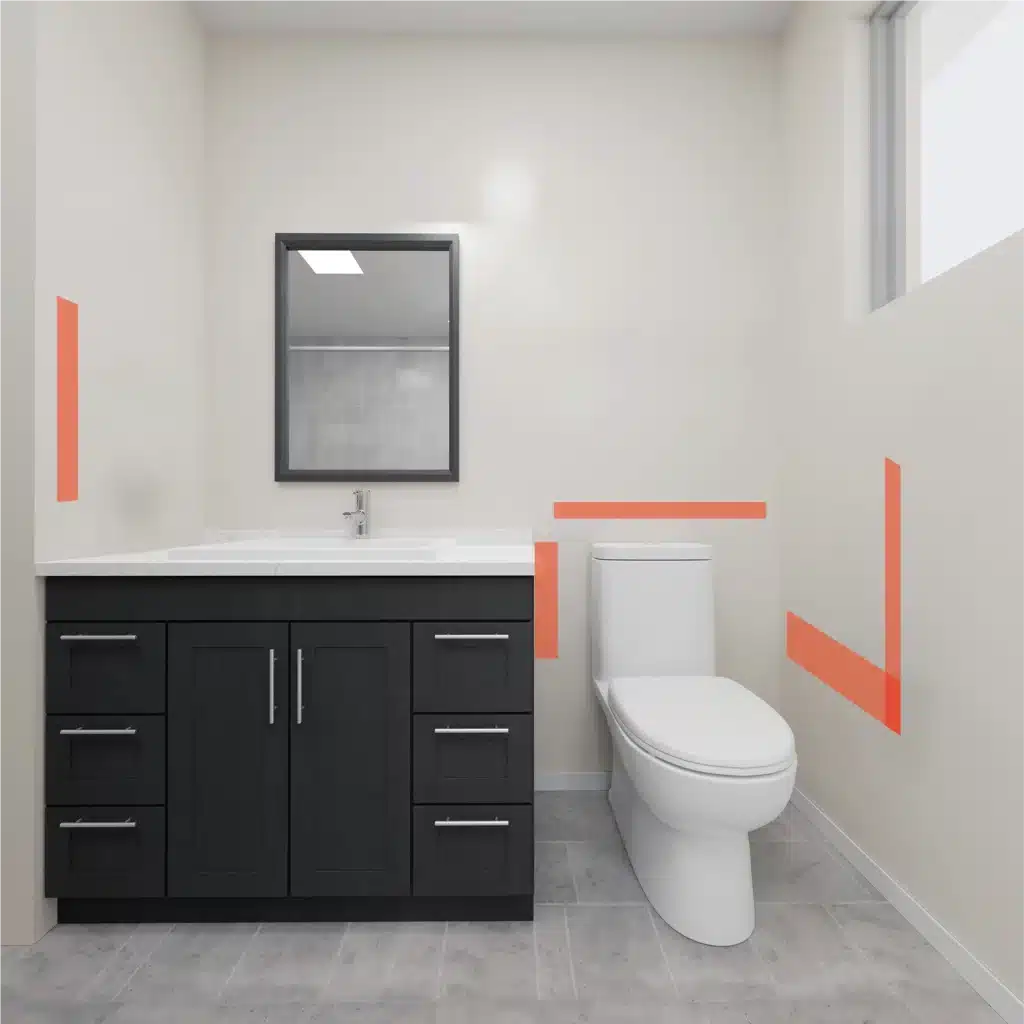 If the toilet has a wall on one or both sides, installing a short grab bar on the wall(s) should provide sufficient support. For a space-saving solution, we recommend modern U-shaped bars like HealthCraft's PT Rail.
When walls are not available near the toilet, an effective alternative is the SuperPole. The SuperPole is a versatile and sturdy support pole that can be securely mounted from floor to ceiling.
Instead of using a regular toilet paper holder, you can opt for the 2-in-1 grab bar + toilet paper holder from HealthCraft's Plus Series.
Near the faucet/sink or other storage areas:
Vertical grab bars on one or both sides of the bathroom medicine cabinet.
 Use grab bars that double as toilet hooks, such as the HealthCraft Plus Series Towel Ring.
Install grab bars near shelves, storage compartments, or any area where your older loved one might need to raise one or both hands to reach for something.
Bedroom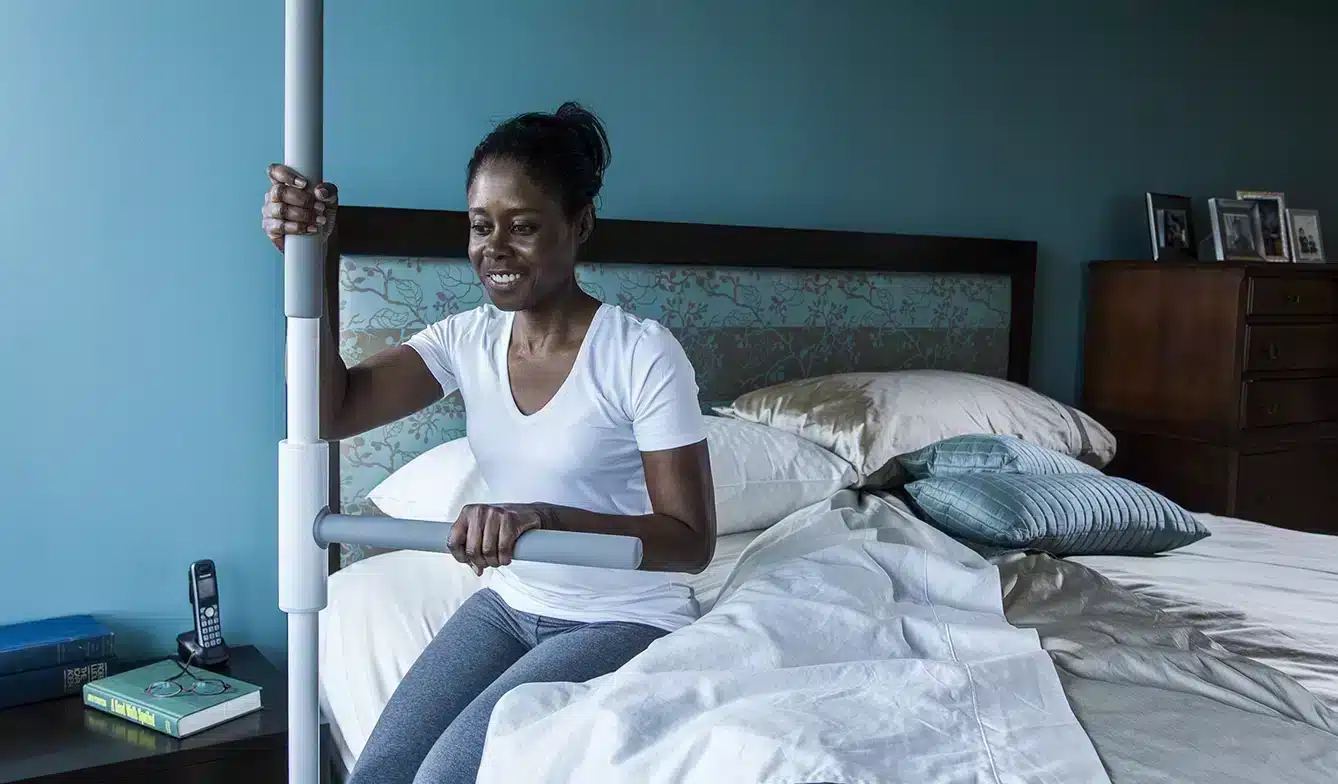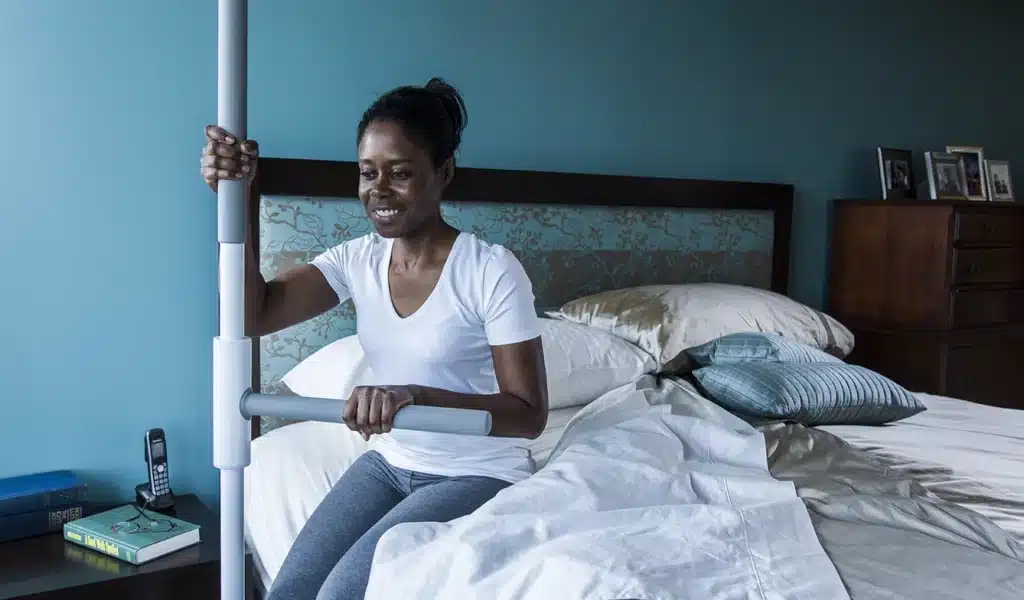 Did you know? Certain conditions, such as nocturia (frequent nighttime urination) and dizziness upon awakening, can increase the chances of falls when transitioning from bed for older adults. Installing grab bars near the bed not only provides your older family members with a sense of security but also helps them transition from sitting to standing positions with confidence, promoting their independence, and reducing the risk of falls. Consider these grab bar options near the bed:
Bed rail: HealthCraft's SmartRail features a supportive bar for turning over at night and a sturdy handle to assist in pulling themselves up. The easy-to-use pivoting design seamlessly supports their standing motion and neatly tucks away when not in use, preserving the aesthetics of the bedroom.

SuperPole with SuperBar:

This sleek and modern grab bar takes up minimal space beside the bed and offers multiple handhold areas for various transfers. Its two-handed design ensures stability and confidence during movements, providing the necessary support for a safe and secure bedroom environment.
By prioritizing the installation of grab bars in these key areas, we can help our older family members age in place with confidence and peace of mind. To take the next step in ensuring home safety, contact HealthCraft today. Our wide range of grab bar solutions and expertise in creating age-friendly environments can provide the necessary support to prevent falls and enhance the well-being of our aging loved ones. Act now and make your home a safer place for your older family members!