Sale
5/5
Rated 5 out of 5 based on 1 ratings
(1 reviews)
Convenient storage and a reliable grab bar for your bathing needs. Compatible with Easy Mount Anchors for smooth installation.
DETAILS
DESCRIPTION & FEATURES
Stylish Safety and Function
Make your bathroom stylish and safe with the Plus Corner Shelf! Available in several colors, this shelf provides both style and reliable safety for your bathing needs. It serves as a grab bar should you need extra support, and the 9-hole flange on this shelf makes installation quick and easy. Features drainage holes that prevent water and soap accumulation. With its limited space design, even the most cramped of bathrooms can look modern and be safe.
The Plus Corner Shelf has ample storage room to accommodate oversized bottles – everything from shampoos, conditioners, and body washes to facial cleansers and soaps can be easily stored. Add elegance to your bathroom while being able to rely on the Plus Corner Shelf as a safe handhold in any situation. Clutter-free storage that offers peace of mind? What more could you ask for? Invest today in this elegant design solution!
Benefits:
Store oversized bottles easily

Easy to clean

Supports up to 500lbs
Product Features
Secure and Easy Installation
The 9-hole flanges make installation easier, and the flange covers hide the mounting screws. Supports 500lbs.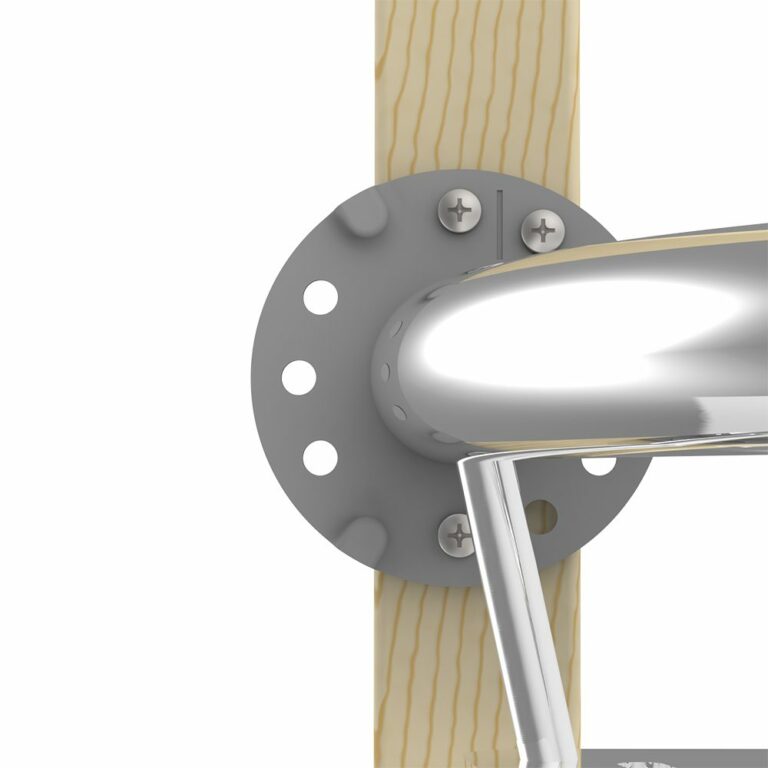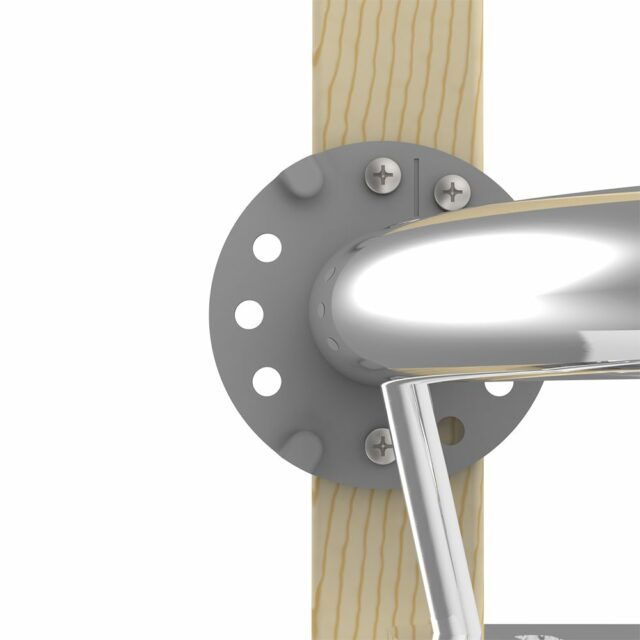 Convenient Storage
The shelf fits even the largest of bottles, while drainage slots help to prevent water and soap build up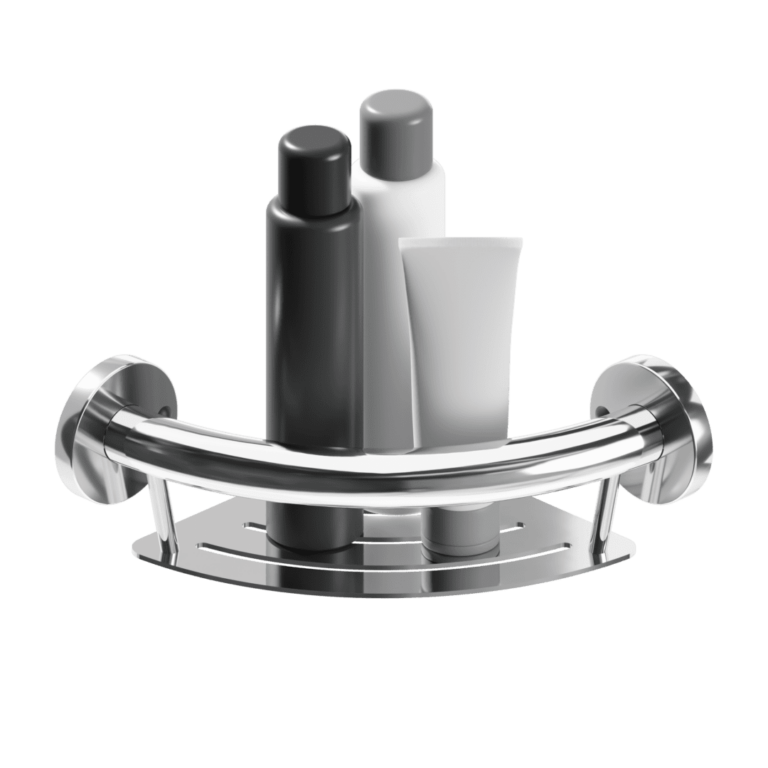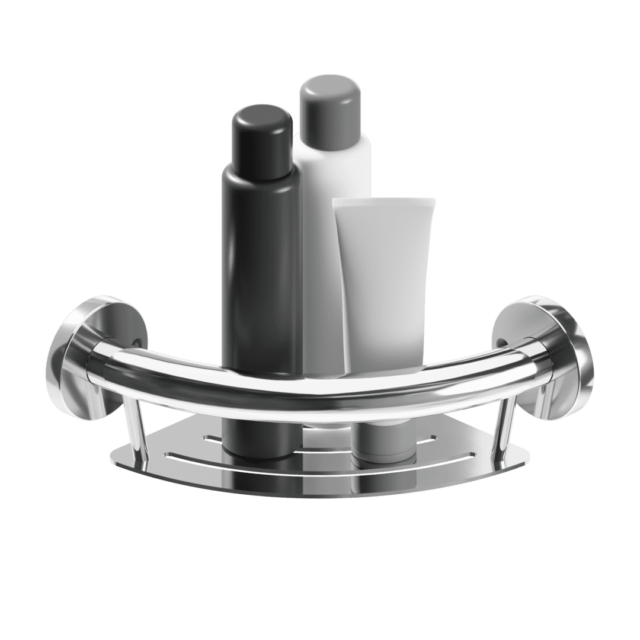 Easy Mount Anchors
Compatible with Easy Mount Hollow Wall Anchors. Install your grab bars anywhere, no studs required! Works in drywall, tile & fibreglass.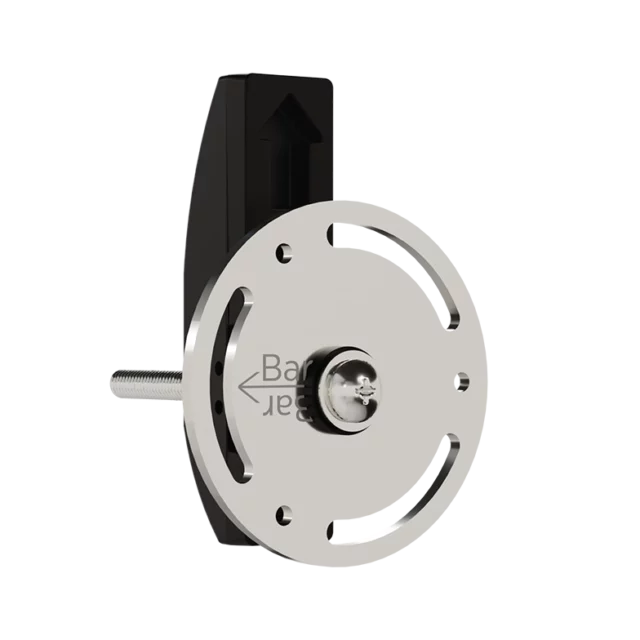 More
INSTALLATION OVERVIEW
Installation (Using Easy Mount Anchors)
How to Install the Plus Series
SPECIFICATIONS
Tech Specs
Specifications subject to change without notice. Product not intended for outdoor use.
Weight Capacity
500lbs / 227kg (ADA Compliant)
Finish
Brushed, Chrome, Matte Black
Rail Diameter
1.25" / 32mm (ADA Compliant)
Rail Length
9.50" / 241mm
Rail Height
4.25" / 108mm
Warranty
Limited Lifetime Warranty
Part Numbers
Chrome: PLUS-CS-CP-1PKBrushed: PLUS-CS-BS-1PKMatte Black: PLUS-CS-BLK-1PK
More
FREQUENTLY ASKED QUESTIONS (FAQ's)
Can't Find Your Question Below? Just Chat Us!
The Plus Corner Shelf must be secured to structurally sound walls to support 500lbs weight capacity. If the desired location does not have adequate structure, add wood blocking. We do not recommend installation if the structure behind the wall is unknown, or if the structure behind the wall is not suitable for supporting weight (examples: metal studs, thin fiberglass enclosures with insufficient stiffness and strength, etc). For more information, please download installation instructions.
The Plus Corner Shelf can be installed in the corner of a bath or shower. Keep in mind the following when choosing the optimal install location: 1. your safety requirements & motions, 2. the usability of the accessory, and 3. the overall bath environment (example: large corner radius of a Fiberglass surround may not allow for Corner Shelf installation).
Using a corner shower shelf increases storage space, improves organization, and give you easier access to items stored on the shelf. Additionally, it can help keep your bathroom neat and tidy since all of your bottles will be secured in one spot rather than scattered around the bathtub or floor while you're using them.
Reviews
1 Reviews
Rated 5 out of 5 based on 1 ratings
Safely bath
Our customers love these corner shelves. No more slippery spilled shampoo.
Safely bath
Our customers love these corner shelves. No more slippery spilled shampoo.